Decided to skip eyeshadow today and just go with liner and falsies. I got the inspiration for the eye look from an ABB member,
hers
was done with blue contacts and blue liner. I was in a hurry so face stuff was kept to bare minimum and the application here might look sloppy...
[Face]
- Everyday Minerals foundation in Light, Original-glo formula
- Everyday Minerals blush in All Smiles
[Eyes]
- Freshlook Colourblends contacts in Amethyst
- MAC pigment in Violet layered on outer 2/3 of lower lashline, applied wet with Visine
- Maybelline Line Stylist in Bright Highlight (pearl white) on inner 1/3 of lower lashline
- MAC Fluidline in Blacktrack on top lashline
- Ardell #108 falsies
[Lips]
- Blistex Ultra Protection SPF 30 lipbalm
- Guerlain KissKiss gloss in Fraises a Croquer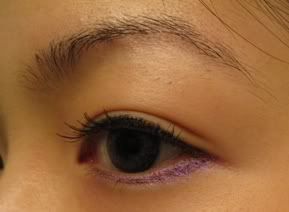 In retropect, I would rather have used a pink blush, I think it goes better with the pink gloss and the purple liner. The peachy shade looks out of place. Also definitely need to fill in my brows next time.
This was also the first time I've used pigments as a liner, and I think I need something that makes the pigment stick more. When I first got out of the house I was like "whoa" when checking my reflection, because the violet was just sooooooooo intensely violet. But after a couple hours the pigment started flaking off bit by bit :( These pictures were taken when I got home so the colour looks less intense. I remember getting a tip from an ABB member on using UDPP with eyeshadows to use them as liners, so I think I'll try that with the pigment next time.
Outfit of the day:
Nothing special, but I have to say I love those boots. They're one of the few pairs with a higher heel that I can still wear. I normally suck in walking in heels but these boots are an exception. I would wear these more often if there wasn't so much snow in Toronto :S Its always either too hot or too much snow to wear boots. These ones are suede so I can't afford to have them get wet in snow.