Some pictures of on Light Flush MSF which I picked up today:
With flash:
I tried taking some pictures without flash but those made the MSF look brown so I didn't post those. It basically looks pink with bronze veining. When swatched its a nice shimmery warm pink, but not very pigmented so I'd say its good only for lighter complexions.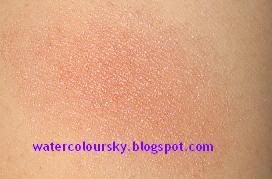 I apologize for this crappy swatch, I will say that it isn't 100% accurate because by the time I got out of work, it was already dark so there was no chance of taking good swatches in natural lighting. I can definitely update with a better swatch on the weekend if someone wants one.