I picked up MAC Parrot eyeshadow from The Originals collection released recently, so figured I should make use of it last weekend:
What I used:
[Face]
- Everyday Minerals foundation in Light, Original glo formula
- Everyday Minerals concealer in Intensive Light
- MAC Emote blush
- Everyday Minerals blush in Weekend Getaway
[Eyes]
- Urban Decay Primer Potion
- MAC Electra eyeshadow on inner corners
- MAC Zonk Bleu! eyeshadow in middle of lid
- MAC Parrot eyeshadow on outer corners
- Clinique Lash Primer
- Lancome Definicils High Definition mascara in black
[Lips]
- Blistex Ultra Protection SPF30 lipbalm
- MAC Viva Glam II lipstick
- MAC Viva Glam VI lipgloss
but after taking a few pics I realised that VGII, althought its supposed to be a nude colour, was not masking my natural reddish lip colour, so I took it off and used MAC Viva Glam V lipstick instead. A more intensely pigmented nude lipstick like MAC Mattene Flattering would've been ideal but I didn't have that with me :(
My lips are way too obvious in this pic I think...Viva Glam II lipstick doesn't work on me :S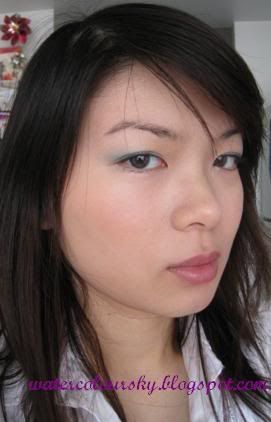 And another pic that was taken indoors. I took this in the Bloor Street Guess store changeroom lol, i couldn't help it because the lighting was too perfect for picture taking.
I wish I had lights like these in my own place, because the makeup colours actually show up and are not washed out by too much flash or ugly yellow lighting. But one thing though is that the eyeshadow now looks more of an icy blue than turquoise.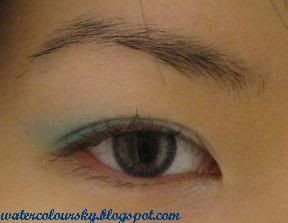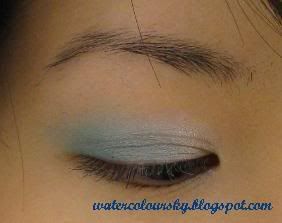 By the way, I was thinking the eyeshadow colours can probably be duplicated with drugstore makeup as well:
- Electra could be substituted with NYX Frosted Flakes or Hollywood
- Zonk Bleu with Maybelline Emerald eyeshadow
- Parrot with CoverGirl Aqua Paradise eyeshadow or L'oreal HIP eyeshadow duo in Showy
The next look I'd want to try with Parrot is this one, taken from the MAC website: