Annabelle
's newest release for Spring is the Painted Love collection:
The promo image is very pastel and fitting for spring. In fact the colours on the model remind me of the China Glaze Up and Away nailpolishes!
The new releases are 4 new single eyeshadows in Helium, Pinked, Toxic Garden and Nymphet. Thanks to Annabelle I was provided with the 4 colours to swatch and test out. Here are the closeups:
Helium
Pinked
Toxic Garden
Nymphet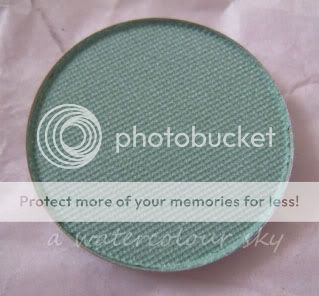 Swatches
:
Pinked
- reddish pink, very fine shimmer
Helium
- beige champagne, shimmer is a bit less fine than the others
Toxic Garden
- light olive with gold tinged shimmer
Nymphet
- pastel mint, with a slight sheen. It looks like a eyeshadow version of
China Glaze Re-fresh Mint
!
Here they are arranged in the custom Annabelle quad (sold separately):
The
Annabelle website
also features another take on these colours - the Remix look:
Its more wearable than the promo, and the winged liner is gorgeous! However I still think the original promo is much more memorable :)
If you are like me and love checking out multiple reviews here are some that I've spotted around the web:
Rae @ The Notice
(gorgeous swatches girl!)
Rasilla
Sparkled Beauty
Stay tuned for a look featuring these colours! Speaking of which have you bought any Spring makeup recently? Do share!
P.S: I almost forgot to mention that you can enter to win these colours on their Facebook page!

Or if you're impatient, there is a $2 off coupon which works for all Annabelle products and is good til end of this month!

They also have a Painted Love Spring look contest going on for the month of March - enter to win a $50 gift basket!