Did any of you with access to Sephora get to check out their new
tokidoki collection
? I saw the eyeshadows and makeup bags at the Bloor Street Sephora the week before, but was not impressed enough to buy the makeup for the following reasons:
-
Chunky, clunky packaging
. The eyeshadow quads are approximately 2.5 x 3 x 3 inches, basically a chunky lucite box. There is a huge compartment at the bottom just to hold the charm which is why the entire quad is box shaped.The singles are oversized as well.
-
Overpriced
(in Canada)
. The markup ranges from $2 extra for the mints to $8 extra for the quads, and luminizing powder.
-
Glitter
(in the eyeshadow quads). All 3 of the quads include 1-2 glitter shades which in my opinion are useless and annoying. The other shades are frost shades with superb pigmentation, so I don't get why they had to ruin it by including glitter in every single quad.
Anyway, here's a quick look at my only tokidoki from Sephora purchase & the VIB Tarantino GWP:
Love the tin! I just wish it wasn't so expensive....just for a small tin of mints!
Handy little mirror inside: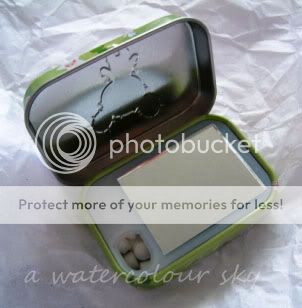 And the Tarantino bracelet:
Its not really my taste but hey it was free! They had red or purple available as well, but I figured black would be the colour I would get bored of the least.
I'm not a fan of the Tarina Tarantino makeup packaging either. I first checked it out a few weeks ago with
Rasilla
and
Babybubblz
and we agreed it looks tacky and childish. As
Catherine
said, the Japanese do cute much better!
What do you think? Yay or nay?