Thanks for all the lovely comments on the
turquoise nails
:) Should I do a tutorial? There are many tutorials out there already though...hmm
Anyway, I've been toying around with the Annabelle Glitterama Liner in Blue Comet lately: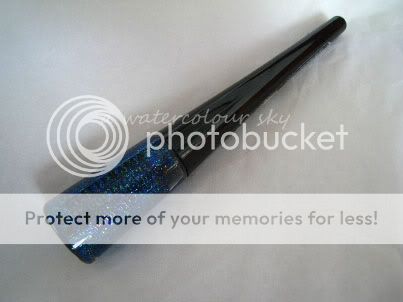 The applicator is a fine tipped brush, easy to control.
Blue Comet consists of mostly blue sparkles with some multicoloured bits in a clear base.
It adds a really nice zing to finish off subtle looks or night looks. I do find the glitter a bit sparse compared with the Too Faced glitter liner:
However, it just means a bit more patience and a few more layers of this product to get the same intensity.
For this look, I used Vincent Longo eye souffle in Babelon as a base for the outer 1/2, before using the colours in the Lavshuca Eye Select Quad BU-1. Lined the lashline with a black pencil liner, before going over it with a coat of Annabelle Blue Comet glitter liner.

What's your take on glitter liners? Love, hate, or indifference?
Personally I think they're an easy way to play up ordinary black liner, or to add sparkle to an otherwise boring look.
P.S. Maybe I should've done a Lights-inspired look. Blue Comet really reminds me of her music video for Saviour:
Added June 22:
See glitter is glamourous...listen to him @3:45 :D
(If you watched the whole vid, do you agree with him not smiling as a guide to applying blush? I personally don't do it...smiling doesn't help one bit, just confuses things for me)