At the
Toronto blogger meetup
a few weeks ago,
Farah
and Cargo Cosmetics kindly organized a little something for each of us. I got the chance to try Cargo's lipgloss in Dusseldorf:
The applicator doesn't pick up very much product, which I find a tad annoying because I have to double dip to get enough gloss out.
Dusseldorf is a sheer berry with micro shimmer.
It is more of a MLBB colour if you have pigmented lips like me. For others it would most likely be a sheer gloss perfect for transitioning from summer to fall.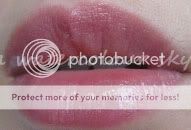 The texture is lightweight, and not too sticky, just slightly. As with all Cargo glosses it comes with a timestrip indicator to remind you how long your gloss has been opened and when it expires in 3 months.
I haven't yet activated the indicator on mine, partly because I don't use my glosses often enough to have just a 3 months shelf life on it, but I could see it being a useful reminder if you use this gloss daily.