If you remember I went back to Asia for a vacation earlier this year, and brought back 2 skincare products from The Face Shop Eco Vert line to try. The Eco-Vert line is touted as a true natural skincare line jointly developed by AMI, a French manufacturer of eco-friendly natural products, and The Face Shop. All products in the range are free of parabens, artificial fragrance, alcohol, and mineral oil.
Eco-Vert Essential Toner
Dual phase toner.
Eco-Vert Extreme Moisture Serum
Both products are based mainly on bamboo extract instead of water, and are very lightweight without any oily or silicone-y feel. After washing my face, I pat about 2-3 pumps of the toner into my skin, and wait for it to sink in. I follow that up with 2-3 pumps of the moisture serum and rub/pat it gently into skin. In summer months that usually is enough to moisturize my skin, but in drier weather like earlier this spring, I would have to follow it up with a heavier moisturizer.
Ingredients for the toner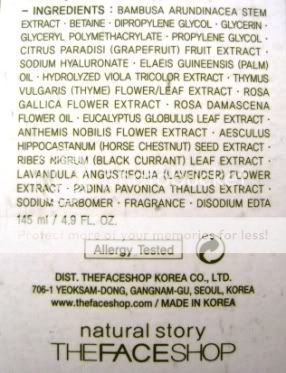 Ingredients for the serum
What I like most about both products that they are both silicone free, and contain a large quantity of plant extracts and sodium hyaluronate. They do contain natural fragrance but the scent smells heavenly, a fresh, comforting smell unlike any other skincare I've used. I find they're quite soothing to my skin as well, and don't aggravate any of my redness/sensitive skin issues at all. I did expect the serum to be more moisturizing though, considering it is called the
Extreme-
Moisture Serum, but it is still on the light side and thus not sufficient for winter. I was thinking of getting the the cream from the Eco-Vert line, but didn't because the cream contains silicones.
Packaging
Both products are packaged in sturdy glass bottles with pump dispensers. The packaging quality is quite elegant and would look really nice on any dresser/counter. The only issue I have with the glass is that travelling with these would be impractical as they are heavier and may also break if dropped.
Price
The products are priced higher than drugstore brands, but slightly below department store brands. The toner was priced around US$15 , while the moisture serum was approximately US$20.
Verdict
Overall, the Eco-Vert toner and serum is worth trying if you have normal to oily skin and are looking for a lightweight product for warmer months. For colder, drier weather, it would be necessary to add on a more moisturizing cream. If there were a Face Shop here I would definitely repurchase!