I've been lemming Siesta blush for a while now, but when I finally decided to get it, it wasn't on the website anymore. I emailed their customer support and they confirmed my worst fear:
Unfortunately, Siesta has been discontinued, and we are completely out! The mica we were using for that product has become unavailable, so we've had to stop making it.
I'm very sorry!ErynClient Services
:( so I still am looking for an inexpensive matte peach blush.
Nevertheless I was still in the mood to try more blushes from Everyday Minerals. I've sampled the Apple and Sunday Brunch shades, which are very pigmented but match my skintone alright as long as I use them sparingly. That also means I'll probably never have to repurchase them because I use so little at a time. But still, I want to try other blushes from them because those 2 really impressed me.
I was in the mood for peach coloured blushes - so here are the contents of my cart:
I decided to order the Pink Ribbon blush since the proceeds go to charity. The colour is supposed to be pink with white shimmer.
The contents of the Custom Personal Makeup kit: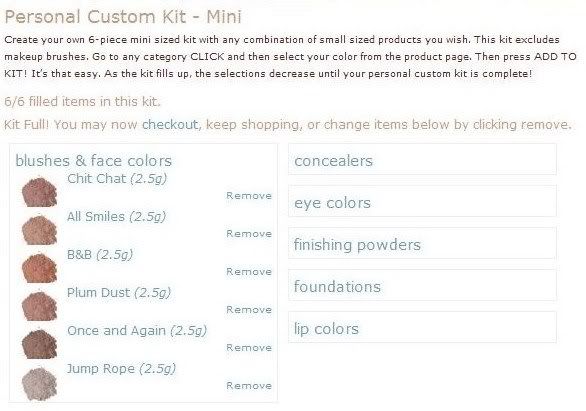 And the free Sample kit that you can get with each order:
I've tried so many of their foundation shades, and I think Light Winged Butter works best for me, but I still am curious to see if Golden Medium will work better. I've only ever sampled Original glo and Semi-matte finishes, so I figured it was time to try the Intensive finish, which is supposed to give the most matte finish out of the four available.
Figured I'd also give the Intensive Light concealer a shot. Of all their concealers, I've only tried Sunlight and Multitasking so far. Sunlight is way too yellow to work for anyone, but Multitasking is a good colour to mask blemishes in general. Just not for the undereye area.
Now I just have to wait patiently for the stuff to arrive...