I apologize for the bad yellow bathroom lighting, there isn't any good white lighting in this place and I only managed to take pictures in the evening when the sun was already gone so didn't have any natural daylight to take pictures with. I find there is no point in using flash because the flash washes out the colours.
What I used:
[Face]
- Everyday Minerals foundation in Golden Medium, Original glo formula (its a shade too dark for me I find)
- Everyday Minerals blush in Jump Rope (wine coloured blush with shimmer)
[Eyes]
- Urban Decay Primer Potion
- MAC Cool Eyes Palette (for details see end of post)
- Clinique Lash Primer
- Lancome Definicils High Definition Mascara
[Lips]
- MAC Viva Glam V lipstick
- MAC Spring Bean Lustreglass
(BUT, by the time I got home and took these pictures the lip gloss already wore off - hence no sign of the lustreglass whatsover).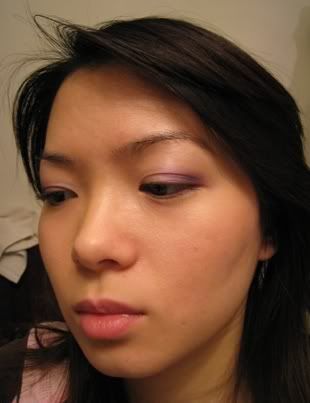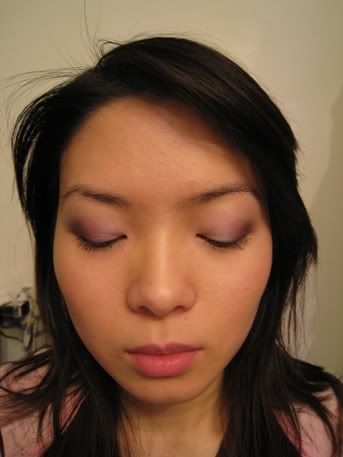 These pictures look like I used only purple shades. But the darkest shade for the crease, Queen's Jewel, was actually a dark blue with a purple tone - see palette picture at the bottom of the post. Boo to crappy washroom lighting ! :S
From left to right, top to bottom:
Medallion, Silverwear
Trophy Pink, Modern Heir,
Shadowy Lady, Queen's Jewel
I used Medallion (light pink) as highlight on browbone, Silverwear (Silver) on inner corners, Modern Heir (purple) in centre of mobile eyelid, Queen's Jewel (blue) for outer eyelid corners.