I tried the Blinc Kiss Me Mascara today, and I love it so far! Tried it yesterday in a damp washroom and it didn't work so well, it wouldn't dry on my lashes and smudged while I was waiting for it to dry. But I tried it this morning, when the washroom was nice and dry, and used a bit less this time, and it worked perfectly :) As some other reviewers on
MUA
have said, it doesn't do anything for volume, and not much for length, but what I like is that it holds a curl beautifully. Its not like I have stubbornly stick straight lashes, but they do need to be curled more to get a more wide awake look, and the Blinc mascara did a better job of keeping the shape today compared to L'oreal Voluminous, Lancome Definicils, or CoverGirl Lash Exact, even with primer. Not that the last 3 are bad, but Blinc just does it better. And as claimed it didn't run or smudge at all.
Keep in mind I just used this on its own though. I wonder if I would be able to get good results using my Clinique lash primer underneath.
***
I think I need a new primer. I was using the Smashbox Photofinish Primer dupe (Monistat Anti-chafing gel) but it seemed to give me blackheads :( so i stopped and tried using Clarins Beauty Flash Balm as primer instead, but I feel that its not really meant to be a primer. and doesn't form a barrier between skin and makeup. Primers supposedly protect your skin from breakouts by forming a layer between your skin and foundation., besides the added bonus of making makeup last longer.
I think it was the silicones in the Monistat primer that clogged my pores, so I'm looking for a silicone free one, but most primers on the market contain silicones :*(
Of the few that are silicone free, these 3 seem to be the most promising based on MUA feedback. Now it is hard to trust MUA just based on the %, as some reviewers give products bad ratings based on superficial reasons, not just on product performance. Also how well a product works for you will depend on your skin type. From actually reading the content of the reviews, these three stood out more from my already limited selection.
FreshFace Face Primer
This lightweight lotion prepares the face for makeup application by filling in fine lines, pores and imperfections, creating a flawless surface. Beneficial for the skin, FreshFace Primer can also be used as a light moisturizing lotion for the face.
Ingredients: Water (Aqua), Caprylic/Capric Triglyceride, Sea Water (Maris Aqua), Polymethyl Methacrylate Butylene Glycol, Hydrogenated Vegetable Oil, Glycerin, Glyceryl Stearate, Steareth-21, Porphyridium Cruentum Extract, Paeonia Albiflora Flower Extract, Camellia Sinensis Leaf Extract, Malva Sylvestris (Mallow) Extract, Cucumis Sativus (Cucumber) Fruit Extract Rose Distillate (Rose Water), Phenoxyethanol, Steareth-2, Chlorphenesin, Methylparaben Sodium Acryloyl Dimethyl Taurate/Hydroxyacrylate Copolymer, Xanthan Gum, Sodium Acrylates/C10-30 Alkyl Acrylate Crosspolymer, Squalane, Disodium EDTA,Propylene Glycol Polysorbate-60, Ethylparaben, Butylparaben, Propylparaben, Isobutylparaben.
Laura Mercier Foundation Primer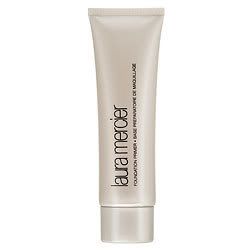 Laura Mercier Foundation Primer creates a smooth, invisible layer that acts as a "buffer" to outside elements and expertly holds foundation. It guarantees that your makeup stays fresh and color-true for hours. With vitamins A, C, and E added to protect the skin, Foundation Primer is oil-free and ideal for all skin types.
Ingredients - 1.75 oz:
Water, Tridecyl Neopentanoate, Stearic Acid, Tocopherol, Ascorbyl Palmitate, Retinyl Palmitate, Honey Extract, Allantoin, Kiwi Extract, Grape Extract, Aloe Extract, Thea Sinensis Extract, Lavender Extract, Orange Extract, Palmarosa Extract, Jasmine Extract, Rose Extract, Geranium Extract, Polymethyl Methacrylate, Glyceryl Stearate, Lanolin, Cetyl Alcohol, Carbomer, Triethanolamine, Methylparaben, Propylparaben, Diazolidinyl Urea, Fd&C Red #40, Fd&C Yellow #5.
Guerlain Divinora Pure Radiance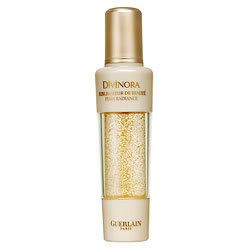 The ultimate makeup primer, Pure Radiance is infused with particles of pure 24 karat gold that instantly melt into the skin for incredible luminosity. Highly efficient active elements moisturize and smooth your skin, leaving your complexion radiant and your makeup fresh all day long. Can also be worn without makeup for a natural glow.
No ingredient listing on Sephora.com or Guerlain.com, but from a few reviews it seems the product feels almost silicon-y but doesn't have any silicones in the ingredients listed on the box.
The gold flecks seem so gimmicky and I would've thought it would cause your face to look like a disco ball, but according to MUA reviewer comments, the gold doesn't show up on your face so it should be ok. The Guerlain does cost twice as much as the Laura Mercier one though....so I'm not sure whether to go for it or try the cheaper one first.
I've also considered MAC's Prep & Prime as they are also silicone free, and feel more like a lotion, but I tried samples of both SPF and non SPF versions, and they make my skin flake. The last thing I need is flaky skin when my skin tends to be dry in winter weather.
***
Felt like window shopping for something other than makeup, so visited Chapters.ca / Amazon.ca. I'm looking for a recipe book with authentic Chinese recipes, in particular recipes for soups and fish, even better if it focuses on Cantonese style cooking. However the selections here in N.America are rather limited, and none of the books that matched my search terms are available in-store, so I'm going to have to order them online, and return the books that are sucky. Even though Amazon.ca is cheaper, I choose to shop at Chapters.ca because I can return the books to their stores and skip any return shipping fees.
What I've found so far: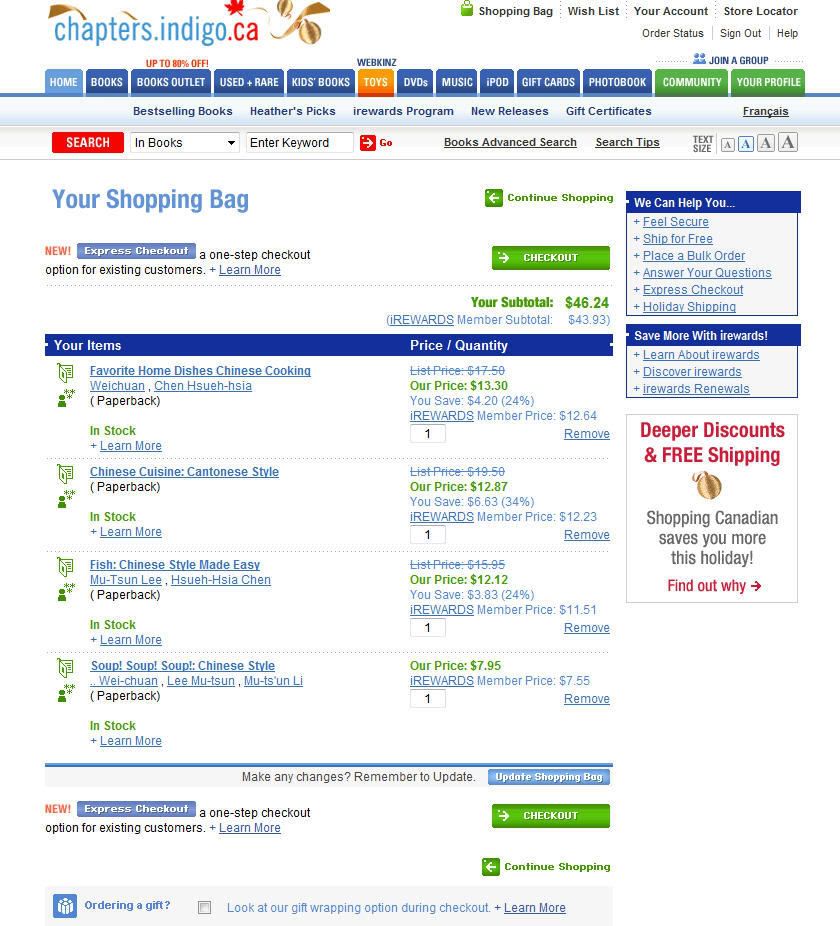 Haven't placed the order yet....still thinking about it, but I sure hope at least one of these books would be good, because I'd feel really awkward walking into a store to return the entire shipment :S