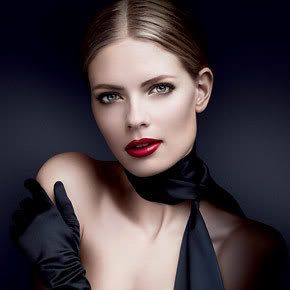 I love this Guerlain model, she gives off this classy, confident, mature, elegant, yet strong vibe. I would love to have that too when I get to a certain age.
Its like she has almost no makeup on too besides foundation, some contouring, red lipstick, eyeliner, and mascara. I'm sure Photoshop helped her a lot though since it IS an advertisement. I could try doing this look but i think I'd need to improve my Photoshop skills exponentially too, lol :P
She does look a tad pale - almost zombie-ish pale, but outside of that, she looks very sophisticated.
***
Here's my haul from yesterday :)
Sephora, MAC, Holt Renfrew.
The Goods.
Undressed.
Sans Dior palette because...I'm still thinking about whether or not I should keep it. So I'm not opening it but putting it aside until later.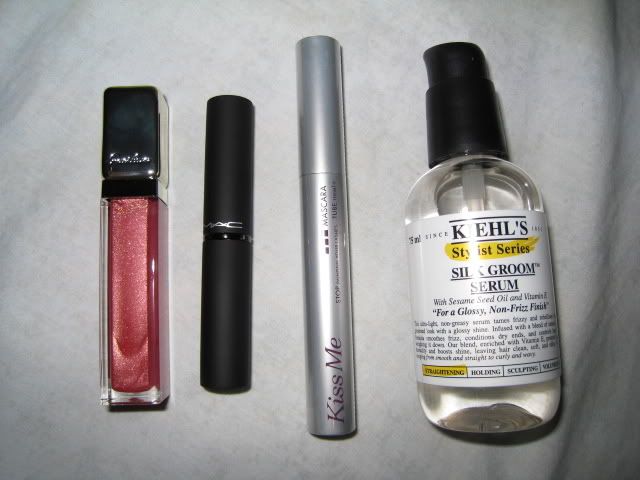 Lipstick/Lipgloss shades.





Details.

Guerlain Kiss Kiss lipgloss in Fraises en Croquer #821

Pinky-gold colour with gold shimmer. Texture feels thicker than the Dior Addict Ultra Reflect lipglosses. Packaging is also very classy, better than the Dior one in my opinion. My complaint about both though is that when you pull out the brush from the tube there's always a trail of gloss that drips onto the side of the opening - which would make it look sloppy and messy over time :( Over the next few weeks we will see how it wears with various lipsticks. So far I like this shade better than the Raffia Orange one from Dior, which is a very pretty apricot-peach shade but doesn't show up that well on my lips unless I really slop it on. This Guerlain shade is more pinky, so it complements my natural lipcolour better since I have really pigmented lips.

MAC Mattene lipstick in Poise

Described as a "clean yellow pink" on MAC Online.
I think of all the MAC lipsticks I love the Mattene collection the most. Poise is my 3rd one now. I wish they would have more mild colours though because 3/4 of the colours available are too bright for my taste. i've been only getting the more toned down colours so far, though Poise is the brightest of the mild colours in the collection. I like these Mattene lipsticks mainly because they're more pigmented than the regular Frost or Lustre lipsticks. And I can have the option of keeping it matte or adding shine with a separate gloss.

Blinc Kiss Me mascara in Black

Another tube mascara innovation from Japan. Claims to surround your lashes in a tube, rather than just sitting on them like paint which conventional mascaras do. Because of this, is supposedly waterproof yet easy to remove when the time comes. I got this mainly for the last reason. Initially I thought I'd never pay that much for mascara, but changed my mind because of the waterproofness factor, and most of all, the ease to remove factor. Apparently all you need to do is rub/pinch your lashes gently, so some pressure is exerted on the mascara, add some water, and the mascara should slide off in tiny tubes. I hate how my L'oreal Voluminous is flaking more now that its old, and also runs easily with just a bit of water or rubbing. But to remove it is so tedious, I have to use so many q-tips to really remove everything. Plus I don't want to rub the undereye area so much to prevent more fine lines from developing there. Since I've started using mascara everyday now instead of just weekends, I decided that trying out the Blinc mascara would be worth it if it saved me all the daily trouble. Also Sephora has a customer satisfaction policy so they accept product returns if you have a good reason for being dissatisfied with the product.

Kiehl's Silk Groom Serum

My hair stylist recommended this earlier this year, but I forgot the name of it so never got it. Then on my last visit 3 weeks ago she mentioned it again as she could see how tangled and unmanageable my ends were. Super expensive :( but the main reason I got it was because she showed me how little I needed to use to detangle my ends. Usually I use a leave in conditioner from Garnier on my ends but I have to use a lot each time, plus I have to use it when my hair is wet otherwise it leaves my hair feeling greasy. With the Kiehl's serum I don't have to use as much, so the bottle will last a long time too.

Dior Detective Chic Palette

Will update on it as soon as I decide whether to open it or not :)