At my bf's place on the 18th floor right now, and man, outside looks like a blizzard is going on. because the apartment is so high up all i can see outside is white powder. The wind is howling like crazy too :S I'm pretty glad to be indoors at this moment for sure.
Got a lot done today. went for a facial treatment in downtown Toronto, which was nice. At the spa, there was a model in a advertising poster with a simple but colourful look, so naturally I had to take a picture of it:
I want to replicate this because it looks so fresh and different. It looks like she has a yellow shadow on the inner corners of the eyes, a purple toned pink on the rest of the top lid, and a teal shadow on the bottom lid. For the rest of the face, an earthy dark peach blush, and a peachy lipstick. I don't have the colours with me right now otherwise I'd use it for tomorrow, so probably will have to wait til next weekend to do it.
I went shopping on Bloor Street before my appointment, and picked up more makeup ....but more about that later when I get pictures of my haul :D
Bloor is actually a pretty nice area to shop - but only if you have the moolah to spare. There are the usual stores like H&M, Guess, The Body Shop, MAC, Aldo, but the main feature of the area (in my opinion anyway) are the high end labels that have their boutiques there: LV, Chanel, Gucci, Prada, Tiffany & Co., Guerlain, and more...I would've gone in to window shop, but for stores like that, I prefer to go with the bf....I just don't like having sales people in those type of stores hovering over me alone when I'm not planning to buy anything.
Anyway today's FOTD was inspired by
Audrie
of
Petitebelle
and
Temptalia
, saw their looks about 2 weeks ago I think and had to try it because I have yellow and blue eyeshadows from NYX but haven't even used them because I don't know how to use colours like that. Temptalia actually used teal but I integrated aqua as well that into my version.
What I used:
[Face]
- Everyday Minerals in Light Winged Butter, intensive (matte) finish
- MAC Emote blush to contour under cheekbones, sides of nose
- Everyday Minerals All Smiles blush (matte sherbet peach)
[Eyes]
- Maybelline Instant Age Rewind concealer in Light
- Urban Decay Primer Potion
- Annabelle eyeshadow in Gleam (light gold, all over lid and browbone)
- NYX Shangri-La trio (used only the yellow shade on inner eyelid corners)
- MAC Zonk Bleu! eyeshadow (centre of lid)
- NYX Aquamarine trio (used the darkest two blues in palette, on outer eyelids and crease)
- Clinique Lash Primer
- Lancome Definicils High Definition mascara in Black
[Lips]
- The Body Shop Satsuma Shimmer lip balm (has really pretty shimmer but doesn't show up in these pics)
I know eyeliner would have completed the look, but I didn't want to use any liner because it would be hard to remove later before the facial treatment, so I skipped it.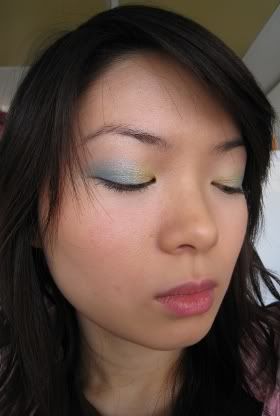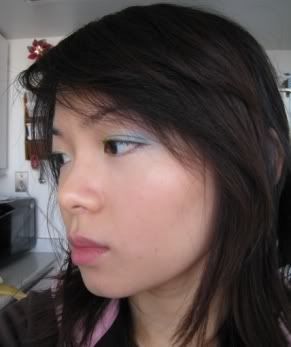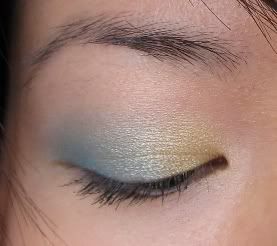 I felt weird wearing these colours out at first. When I put them on I was so tempted to wipe them off and start over, because I've never used colors like that, and felt they looked weird on my skintone. But I stopped myself from doing it because i was short on time, and i hate wasting time erasing good makeup that took time to apply, so decided to just wear it out anyways.
Felt weird the whole time I was out though, because I noticed passers by glanced at me more than what I usually get......Happily I did actually get complimented on the colours twice, from 2 separate MAs at Sephora. It was funny because both compliments came within 1 minute of each other when I was wandering the aisles at Sephora, but anyways made me feel better about it. :) Keep in mind these colours are a lot more vibrant in real life though, so I still feel these colours are kinda too strong for everyday wear. Too strong for Toronto that is.....most people just do very basic looks here I find, even on weekends.
Anyway thats it, I'm super tired again, too tired to even play Folklore :S going to crawl into bed now :)
p.s. I want to try
this look
next :) and the Clarins one too of course.