Finally
my
order
from EM came. I love online window shopping, but hate actually ordering, then having to wait for packages. Too impatient.
Also got some L'oreal Men's Power Buff Exfoliator, based on rave reviews I've read on Fei and Ricebunny's blogs. I've tried it out only once, seems okay so far but will have to see how good it is in the long term. I already have an exfoliating medium I love, the Clarins Gentle Exfoliating Refiner, but I'm looking for something cheaper to stretch the Clarins stuff out as it costs over CDN$30 for a 60 mL tube. Meanwhile, the L'oreal stuff costs CDN$9.99 at drugstores and about CDN$1.50 cheaper if you get it at Wal-Mart.
Pictures because I take pictures of everything...
L'oreal Power Buff, Everyday Minerals custom kit - all blushes, and free sample kit (the smaller jars), also the Pink Ribbon blush: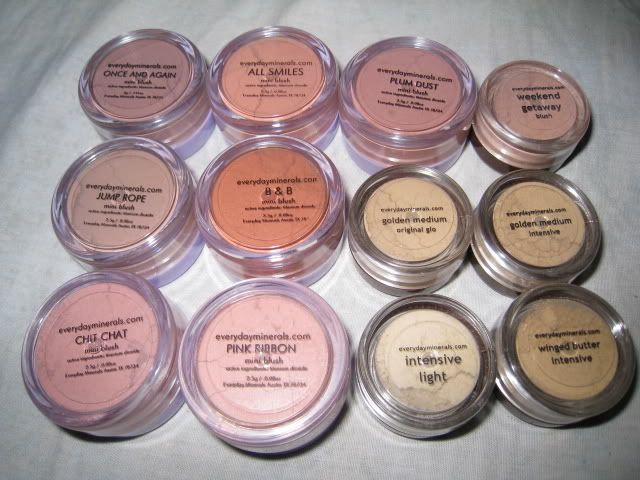 I have so many blushes now, I don't think I'll use these up ever. But I love how 6 of these blushes cost $18 in total, while one Bare Escentuals blush alone costs that same amount. And MAC blushes cost $30 for just one. With blushes, I find that cheap brands do them just as well as higher-end brands. And I bet the EM ones have almost as much product as the Bare Escentuals ones, as these EM jars are packed completely full, while BE ones have quite a lot of empty space in the jar.