Happy New Year everyone! The weather is pretty cold and snowy right now so didn't stay out too late past midnight here.
Since I'm sitting around at home, felt like posting my recent clothing haul from the past 2 weeks...
White striped top from Dynamite:
Knee length shorts from Garage:
Black shirt with ruched waist and ruching on shoulders from Costa Blanca: (I don't know if i like this yet...)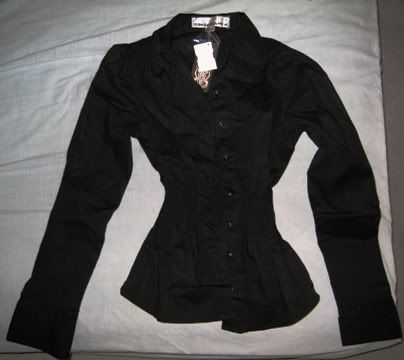 And my favourite, white stretchy off the shoulder top from Guess: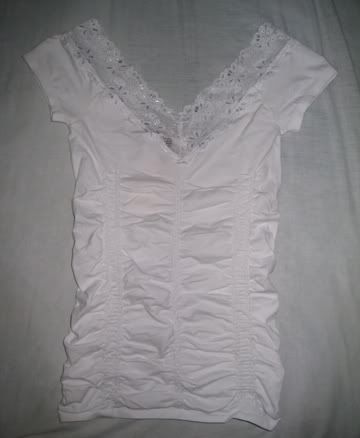 This was an additional 50% off the already reduced price, plus the only 2 tops left were in my size so it felt meant to be lol.
Also got a black knit
sweater
from Guess, and a olive green shirt from Garage again, plus some over the knee socks from Ardene to go with my boots and skirts :)
I feel so monochromatic now looking at these clothes, it seems like I picked out only items in black and white! I used to go for blue clothing all the time in high school, and then brown and green last year, but now I think I'm in a monochromatic phase :P
I picked up quite a few shirts, I think because I now feel the need to dress a bit more grown up and less college-student-y. A year ago I'd still be looking at hoodies and tees, but not anymore, I have way too many of those now. In fact, my wardrobe really needs to be updated but I've been spending too much on makeup instead :S
In fact, I desperately need a few nice sweaters, but the problem is that I generally hate sweaters. I find them too hot when I'm in a building. I could try cardigans, but the problem is I'd have to get strappy tops to wear with them underneath, and I've never been into strappy tops. I've always stuck to basic tees or at the most, cap sleeved tees. Strappy and tube tops are not my thing at all. Also cardigans always seemed old to me....or maybe I've just never come across a nice sweater because I always avoided even looking at sweaters in stores. Guess I'm just not a sweater person...