I've been hearing rumours about a rare LE eyeshadow called MAC Parrot being re-released. I had absolutely no idea what it was, plus the name sounded ridiculous to me. Didn't think much about it until recently, when I was reading Specktra Beauty Blog who confirmed that Parrot was being repromoted.
So I had to google it and find out as much as I could about this much "coveted" colour....apparently Parrot goes for as much as $50 on Ebay. WTH??
Anyway here's what I found:
Parrot: Deep aqua blue with bright green and blue pearlized pigments (frost)
To be released with The Originals collection on Dec 26.

I looked up MUA reviews on Parrot, and a lot of reviewers were recommending Cargo Aegean and the teal shade in L'oreal HIP Duo in Showy. Come to think of it, I've swatched Showy a few times and love it, I just never got it because I hate the huge plastic packaging, and also hate the other dark blue shade that its paired with.

Swatches from Specktra.net comparing it with Cargo Aegean: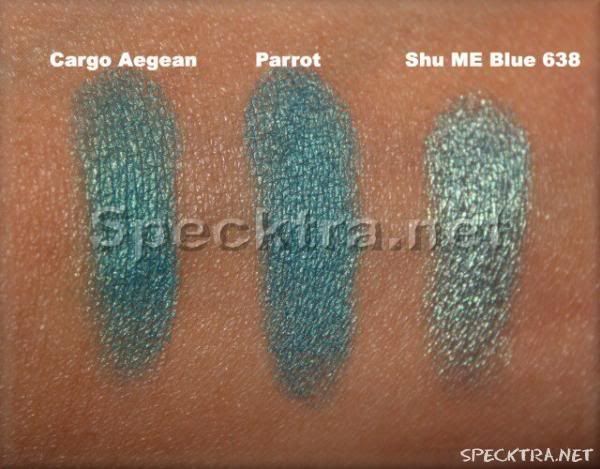 I wouldn't mind getting the dupes, but hey since its coming out Dec 26 I'm definitely going to try and pick up one. Also, I'd prefer to get Parrot over Aegean since Parrot would fit into my existing palettes, and I need more containers for Back2Mac anyway.

FYI, some Specktra members say you can get Parrot by mixing Electric Eel and Shimmermoss eyeshadows.

Here's an awesome look done with Parrot on Gemma Ward taken from Blogdorf Goodman: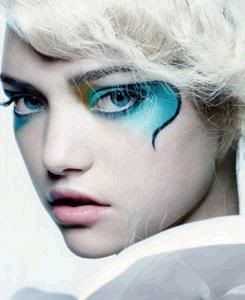 I've never been much into the face art thing that some beauty bloggers do, but this looks tastefully executed. I doubt the blue is really that vibrant though - probably the wonders of Photoshop. Having an almost white canvas to contrast with the blue didn't hurt either.

Promotional picture for some eyeshadows from The Originals collection:

Parrot is the blue shade at the bottom.




(Picture from Temptalia)