Look from yesterday, which includes a partial Everyday Minerals EOTD :)
[Face]
Giorgio Armani Luminous Silk Foundation in #3
MAC Sculpt powder to contour
MAC Light Flush MSF
Silk Naturals Perfecting Powder
[Eyes]

Urban Decay Primer Potion
MAC Blacktrack Fluidline
Missha Dolly Eyelash A-103 lashes
MAC Electra eyeshadow (inner corner of eyelids)
Everyday Minerals Snowflakes eyeshadow (middle of eyelids)
Everyday Minerals Mystic Night eyeshadow (outer corners to contour)
Edit: Also used MAC Accentuate powder to highlight brow
[Lips]
Blistex Ultra Protection SPF 30 lipbalm
MAC Mattene lipstick in Flattering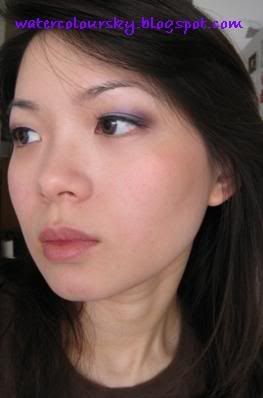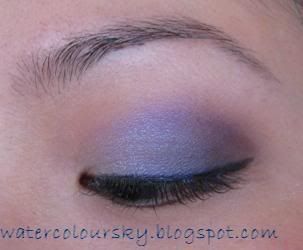 This one with flash:
So you can see the falsies :) which took me over 15 mins to apply properly, and another 30 mins to get eyeliner right :S I don't use eyeliner much so I suck at applying it.
I LOVE Snowflakes eyeshadow. Its such a pretty purple colour with gorgeous blue tones, I guess you could call it a duochrome.
Mystic Night is still a bit disappointing for me, I was expecting it to be bluer, with no purple. Actually from these pics, if I didn't know I would've thought Mystic Night to be the blueish purple in the centre, but it comes out purple.