i received my
everyday minerals haul
a few days ago. Was quite happy to get them this week because work was getting me stressed out so getting a package helped me feel better :)
Here's the stuff I got: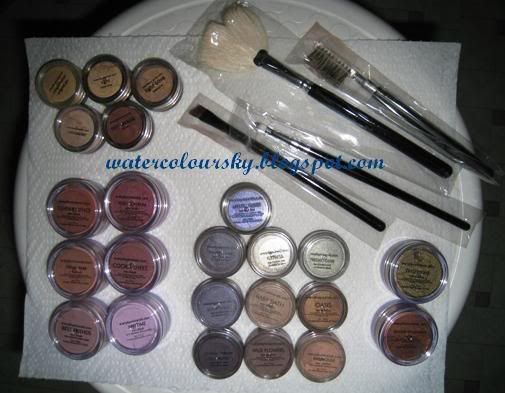 Taking that picture makes me feel guilty about my MAC habit....after all, that entire haul cost the same as this at Canadian pricing...: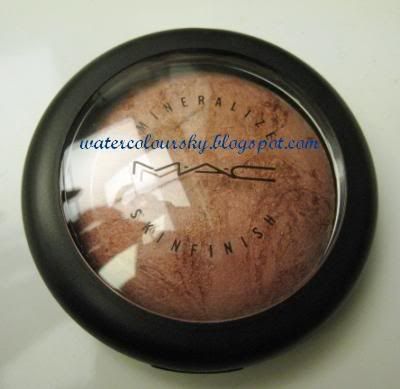 But anyway, on to specifics on what I got:
1. Personal Custom Kit Mini
- I picked all blushes, mostly the new additions to their line: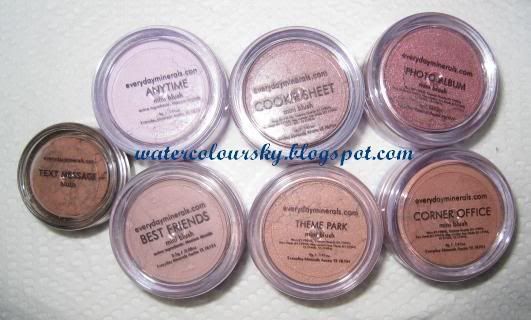 2. Mini eyeshadow kit
, also pictured with 2 full size eyeshadows that were free:
3. Free brushes
with order since it was over $30, and the eye definer brush was included as part of the mini eye kit.
4. Free sample kit,
but nothing too exciting there so I didn't take any pictures. Just some extra samples of Light, Light Olive but in Intensive formula, an extra sample of Light Winged Butter Original glo, and an extra sample of Multitasking concealer.
On to swatches and some rambling!1. Blushes
Anytime:
Came out as a lilac pink, the pic doesn't show it properly here. It looks scary in this picture and in the pot, but I tried it on my face today and it comes out ok on my NC25 complexion. I still would only pair it with cool-toned eyeshadow and lipcolour though. Its such a cool pink it will definitely clash with any warm colours.
Text Message:
Rich reddish-brown. Reminds me of red bricks lol. Quite pigmented but seems like a fun colour still.
Corner Office & Theme Park:
More apricoty-peachy toned :P I don't know which is the right word to describe them. Medium to very pigmented. Theme Park looks to be one of my favourite colours from this haul.
Cookie Sheet & Photo Album:
Quite pigmented. These are more berry toned, they look super pretty so I can't wait to use these.
Best Friends:
Soft rosy pink, less pigmented. I swatched Once and Again here even though that was from my previous haul, because I'd thought it looked the same as Best Friends in the container. Fortunately there is a difference, its a darker pink.
2. Eyeshadow
Mystic Night:
I was expecting a midnight blue from EM's description but this turned out to be more dark purple with a very faint hint of blue sparkle :( Its a pretty colour but still, I was expecting a more vibrant dark blue. I'm not sure why I don't see a whole lot of difference between it and Well Being eyeshadow, which is supposed to be medium purple per EM. Sigh.
Well Being:
I'd call it a dark purple with shimmer. More eggplant purple. A bit disappointing because I already have eggplant purple eyeshadow and I expected something different.
Snowflakes:
One of my favourites from this haul. At first it reminded me of MAC Violet pigment but when I swatched them both, Snowflakes has a bluer tone to it and is less vibrant. Looks very wearable.
Shopping Spree:
From EM's description it sounded like an interesting duochrome, and I'm happy to say it is. It reminds me of a toned down version of MAC Club eyeshadow. Like Club, it appears to be reddish brown, but there is green shimmer in it depending on what angle you view the swatch at.
Gingerbread Man
: Rich chocolate brown with shimmer. Looks like it'll make a great crease colour.
Wild Flowers:
Matte brownish taupe, I got it because I want more matte neutrals in my collection.
Birdhouse:
Light caramel colour, I picked it because I was lemming a MAC Matte2 shadow in the same colour but didn't feel like paying the extra $$ for such a simple colour. I don't mind paying for more unique colours from MAC, but for neutral/lighter colours I usually go cheap :P
Baby Bath:
Supposed to be pearl finish, but looks like shimmer (I labelled the swatch wrong). The colour looks perfect for highlighting the brow or inner corner.
Oasis:
Light brown colour with gold shimmer, can't wait to use it :)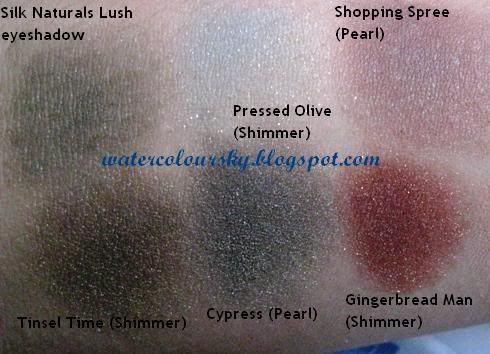 Swatched Silk Natural's Lush eyeshadow just for comparison. (Lush btw is supposed to be a dupe of MAC Humid but I don't think so...its darker and duller than Humid.)
Tinsel Time:
Pretty olive colour, I like this better than any of the olive shades I already own.
Pressed Olive:
Ok I thought Pressed Olive would be olive. But instead its more of a silvery light green with bluish tinge. I wasn't expecting that blue part of it at all, but I still like it.
Cypress:
I was disappointed at how light it looked in the container, but fortunately the swatch is exactly what I thought it would be. Nice medium green with gold shimmer.
3. Brushes:
Seem decent for whatever they're priced at regularly. For me these were free/included in a kit. The fan brush is alright, nothing to get excited about. It got a bit mauled in transit but after a wash the bristles were ok. The lip brush and eye definer brush feel soft and acceptable quality. I haven't tried them out yet but if they perform spectacularly I'll be sure to mention it :)
Unfortunately, the lash/brow comb seem to have a bit of a problem:
There wasn't anything helping the brush head adhere to the wooden handle...I guess their manufacturer really should've used a better glue. Oh well I guess I'll use some Krazy glue if I feel like it later. I don't find lash combs useful though, they never do anything for mascara clumps.
After this haul, except for the MAC Fafi collection, feel free to hit me over the head if I get any more blushes/eyeshadows...:S