My order from Madame Madeline came in yesterday. Surprisingly, I didn't get charged duties on it. I guess if its only a little above the limit then Customs will let it go. I heard somewhere that Canadian customs doesn't charge duties on things made in the States under the NAFTA agreement. That would explain why I didn't get charged on the Everyday Minerals order, however I was expecting that this might be charged as most or all Ardell lashes are made in Sri Lanka/Indonesia.
I love how the people at MM manage to pack everything into the box so perfectly - no space wasted!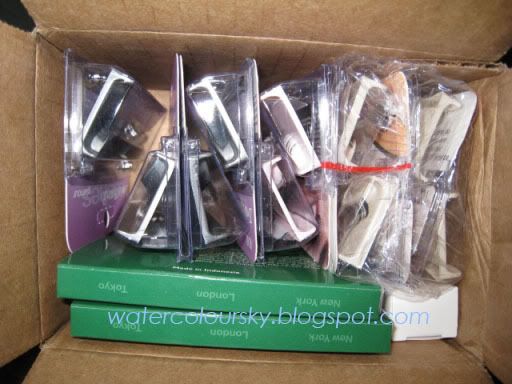 Contents: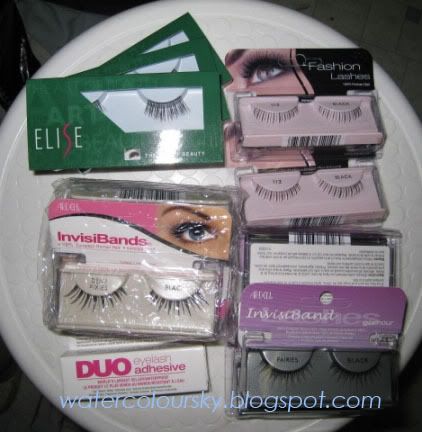 What I actually ordered:
1. Ardell InvisiBand Demi Pixies, 4 pairs for $8.80:

2. Ardell Fashion Lashes 112, 2 for about $4.50:

These are bottom lashes - but they're still pretty long. Wish they had something shorter. Originally I wanted the invisiband version but those have been discontinued.
3. Ardell InvisiBand Fairies, 4 for $8.80:
4. Elise Faux Eyelashes #313 (half lashes), 2 for $1.55 on sale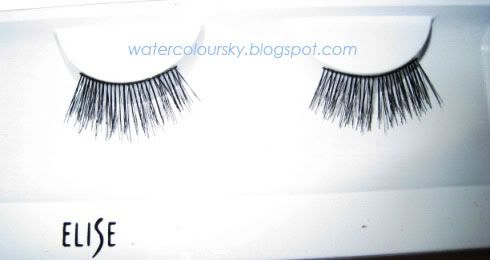 I'm quite disappointed in these because they aren't curled at all! I couldn't tell from the website, but looking at them now, the lashes are
stick straight
. I don't see the point of putting on falsies if they are just going to stick straight down/out?
I guess I'll try curling them - maybe the point of having them straight is so that you can curl them with your own lashes when they're applied? At least these were cheap...$1.55 for two. But I ended up getting 3, the 3rd being the free pair of lashes promotion that they give with most orders.


5. DUO Eyelash Adhesive in Dark, $4.35:
I have the clear version and it works great, except the glue never really dries clear no matter how little I put on. So I wanted to try the dark version to see if that blends with eyeliner and the lash spine better.
I wonder if there's really a difference between the regular lashes and the invisibands from Ardell, because I've noticed some Invisibands seem to look the same as the regular Fashion lashes. I wanted the Invisibands mostly because I really don't like the time it takes to apply eyeliner and also to remove it. So I figured I could try out Invisibands to see if they can stand on their own without needing black liner to cover up the spine. I'll see how it goes this weekend.