another purple one, this time using the Ardell falsies I just received.
[Face]

- Laura Mercier Hydrating Primer
- Giorgio Armani Luminous Silk Foundation #3
- Silk Naturals Perfecting Powder
- MAC Sculpt/Accentuate Powder to contour/highlight
- Everyday Minerals Photo Album blush
[Eyes]
- Urban Decay Primer Potion
- LORAC Greatest Hits CD2 palette - Pink Mist eyeshadow from lashline to browbone
- LORAC Greatest Htis CD2 palette - Dreamy eyeshadow on inner corner
- MAC Beautiful Iris eyeshadow on middle of lid
- NYX Deep Purple eyeshadow on outer corner
- NYX Lavender Jumbo eye pencil on lower lashline.
- MAC Blacktrack Fluidline
- Ardell InvisiBands lashes in Demi Pixies
[Lips]
- Blistex SPF30 lipbalm
- MAC Mattene lipstick in Poise/Flattering in the pics - but I ended up taking both off and using NYC Ultra Last lipstick in Fragile Pink because that colour was more subtle,
Random useless fact....in here I ended up using a complete mix of brands - higher end and drugstore brand stuff.

The dark version of DUO glue works better than the white ones, but still not perfectly. I covered up the lighter bits with more liner afterwards.
I really like this lash style though, its very different from anything I have. Definitely not that natural because of the spiky design, but because they are demi length they don't look as over the top as most other lashes in this style.
My eyes being retardedly assymetrical - the one on the right wanted to be double lidded while the left wanted to be monolid - which i find makes me look super retarded / cross-eyed? in pictures...:(

They're all right by themselves, its just that together they look odd.
Left (my right one):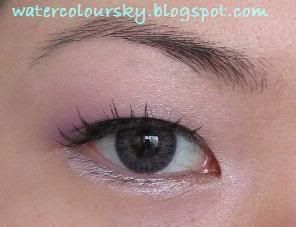 Right (my left one):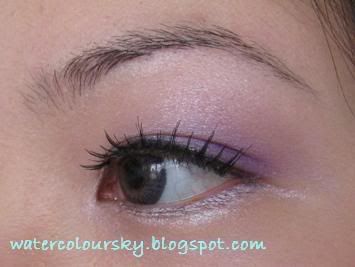 And...this is me looking really suprised...because doing that seemed to be the only way to get the falsies to really show on camera. They're all nice and long in real life but on camera they don't show up too much.
P.S.
Elizabeth
- I know, I tried taking a 'cutesy' one but just couldn't! I ended up looking super creepy - like mad Samira of The Ring crazy LOL. Maybe I'll give it another try on my next post :)