almost got hit by an SUV monday night. i was sitting on the passenger side minding my own business. we're making a perfectly legal left turn at an intersection just as oncoming traffic is supposed to be stopping but a white SUV kept on going. It came pretty darn close, if it hadn't stopped in time it would've plowed into the side of our car. *Sigh* too many people on the roads that have no clue how to drive.
But anyway I got tagged by
Elizabeth
and
Fei
to show "What's in my purse?" so here it is :)
I switch between several bags/purse through the week depending on what I need to carry, but i'll focus on what i usually carry in these two.
For weekends, my small purse:
Doesn't contain much - I don't even use a wallet with this little bag - i stick my cards and bills into the side pocket and use mini sizes of whatever I want to carry with me lol. I know i need a bigger purse but I just can't find any ones I like...I always end up liking the small ones better. I think part of the problem is being petite - large purses tend to look oversized on me.
The contents: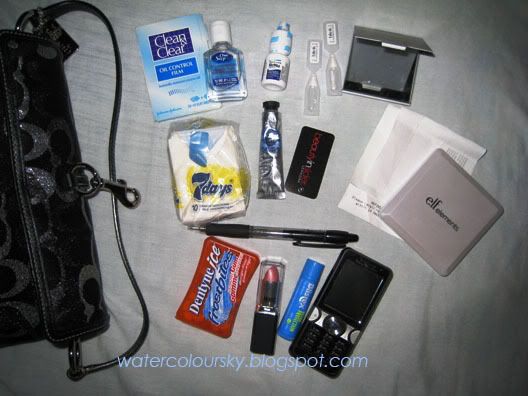 Top row:

Clean & Clear blotting sheets, Purell hand sanitizer, eye drops for contacts, more eye drops, silver travel mirror (only 100 yen! :D)
Middle row:

Tissue, L'occitane hand cream, extra Sephora Beauty Insider tag, movie stub and a grocery receipt, ELF eye palette containing a mix of shadows from NYX and MAC.
Bottom row:

Korean Air pen, Dentyne Frostbites gum (usually I carry Excel mints but forgot to buy more), NYC Fragile Pink lipstick, Blistex lipbalm, Sony Ericsson phone.
When I go to work I use any old messenger bags so I can stick a bottle of water in and my lunch:
I can stick so much more in here as well: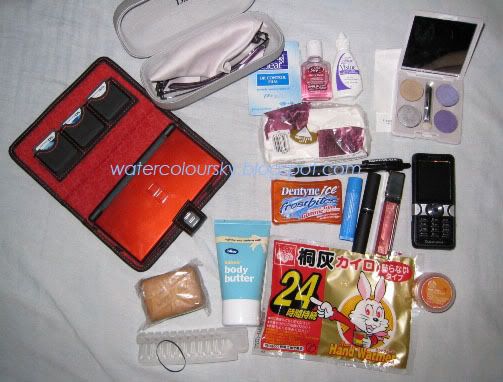 Top row:
Dior shades, C&C sheets, Purell berry scented sanitizer :), Visine, another ELF palette.
Middle row:
Nintendo DS, the same pen, tissue, Dentyne gum and Blistex lipbalm; MAC Mattene lipstick, Guerlain lipgloss, Sony Ericsson phone.
Bottom row:
Ovaltine biscuits to snack on, Bliss hand cream, folding hairbrush/comb, hair elastic, Japanese brand hand warmer pack(stays hot for ~24 hrs!), The Body Shop Satsuma shimmer lipbalm.
And also my wallet and keys - the keystrap with my home keys, and the metal one for my work key and access card so they clip to my belt loop.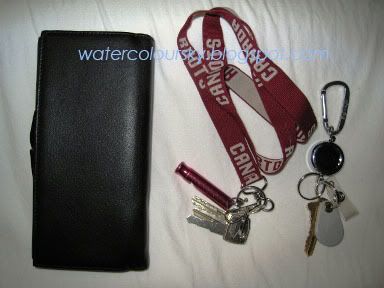 Not too exciting unfortunately...I don't carry around much makeup except for lipstuff and eyeshadow to touch up, because I don't like putting on makeup in the middle of the day. I have this thing for using makeup only after I've washed my face. Also most public washrooms in malls and stuff are gross and too public for me to feel comfortable applying makeup there :S
So....I'm tagging:
Alienman
Girl Meets Makeup
Gezebel
Jewels
Mulzanza
Mae
Petitebelle