some skincare haulage...
Clarins:


I tried the facial treatments at the Clarins skin spa last year, and although I don't think the treatments did anything for me other than giving me some overly scented relaxation time, I did find a couple of products worked quite well for me. So when I saw The Bay had another gift with purchase promotion I got two items that I've been running low on - the Gentle Exfoliating Refiner and the Extra-comfort toning lotion.
With purchase of two items (one of those must be skincare), you get a giftbag with trial sizes of other skin products. The gift bags are always the same, there's always a choice of 4 bags with products catered to a specific age range. I got the one targeted for skin in the 20s, called the Nomalizing gift:
- Purifying Cleansing Gel for oily skin (I'll save this for the summer)
- Water Purify One step cleanser
- Pore Minimizing Serum
- Pure and Radiant Mask (I have the pro size of thisalready...works well)
- Clarins Men Moisture balm sample


Lancome:


On my last Lancome purchase I got a gift with purchase that included eyeshadows and lipstick, but I wasn't impressed by them at all. The shadows were too sheer and the lipstick too dark for my taste. So this time they were offering a different gift, one that was all skincare samples, so I decided to restock my Aqua Fusion cream this time. Aqua Fusion cream by the way is awesome for my dry skin because it hydrates AND yet doesn't feel greasy at all. All expensive/drugstore creams i've tried are either not hydrating enough or leave a greasy shine on my face, except this one.
The gift included with purchase consisted of:
- white Lancome travel bag
- Primordiale Cell Defense Skin Perfecting serum trial size
- High Potency Night Moisturizer with some vitamin B stuff, trial size
- High Resolution eye gel sample
- Hydra Intense hydrating gel mask sample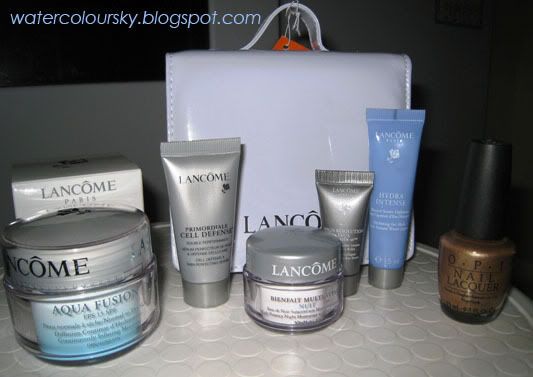 Also got my gold polish as you can see on the right of the pic above.
The OPI Golden Rules! polish isn't quite as brilliant as the MAC Gold Veneer but it'll do...