sculpt & shape haul and some other samples:
- MAC 138 brush
- MAC Sculpt and Shape Powder in Accentuate/Sculpt
- Samples of The Originals collection pigments: Steel Blue, Violet, Reflects Teal, and Reflects Red
- Sample of Laura Mercier Hydrating Primer (the MA recommended it for dry skin)
Closeup of the Sculpt and Shape duo and 138 brush: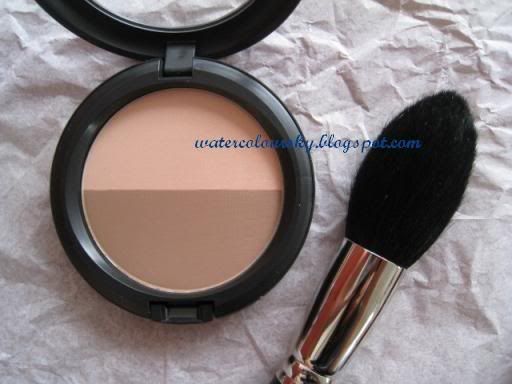 The MAC 138 brush is freakishly expensive. But it does feel super soft and looks very unique, I don't think I've ever seen a face brush shaped like this. I washed it yesterday and all seems well, there wasn't any bleeding (unlike some other brushes like the MAC187SE, which leaves a bit of a stain on whatever you are drying it on). I bought the 138 to try it out and see if its worth the money, after all I do get 3 months to try it out and return it if I don't like it - the main reason I usually buy from MAC counters at The Bay rather than the MAC stores.
For size comparison:
The sculpting duo doesn't seem all that unique, although I do like the fact that its conveniently packaged in a duo for portability. However the Sculpting portion looks very similar to MAC Emote blush, while the highlighting part could be substituted with any highlighter, or even a slightly lighter glowy foundation. I could probably use my unused sample of EM Fawn foundation in Original glo, which was a bit too light for me, to highlight instead.


Comparison swatches of MAC Emote with MAC Accentuate/Sculpt Duo:
From left to right - Emote, Sculpt, Accentuate
Emote has a greyer tone, while Sculpt looks more brown.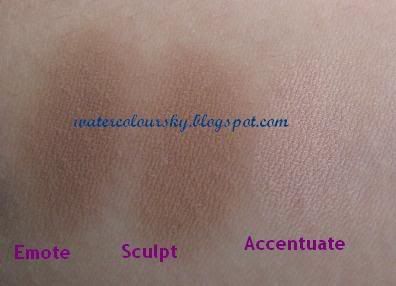 I'd say its a great pick up for someone who doesn't yet have any suitable contouring shades, or who missed getting MAC Emote when it was out, as it was limited edition.
But for someone like me though, I have the feeling going to end up returning it as I already have similar items in my collection. I'll definitely post more about it though if I keep it and use it more.