This eyeshadow colour combination was inspired by one of Rolos' looks on
ABB
. I miss her posts, they always motivated me whenever I was feeling makeup burnout...
She did a look with Parrot eyeshadow and some purple. I loved it because I would never have thought Parrot would go with purple, but it surprisingly does. So I tried it a few days ago.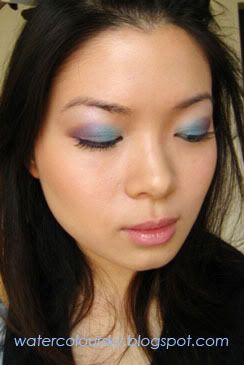 This one below without falsies, the one with the falsies came out blurry.

Now with falsies.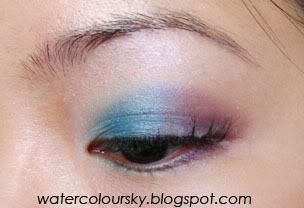 I love the Andrea Modlash 53's. They are just a little bit more dramatic than your natural lashes but you can still fool people into thinking they are real. I found that these ones actually looked more natural now that they have been a bit broken in, compared to when they were brand new.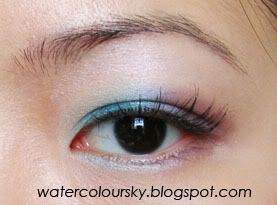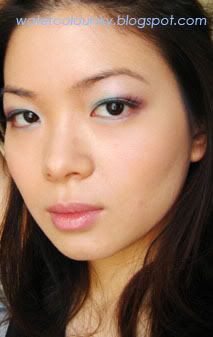 What I used:
[Eyes]
Urban Decay Primer Potion
MAC Zonk Bleu! on innermost corner of eyelid to brighten
MAC Parrot on inner half of eyelid
Everyday Minerals Snowflakes eyeshadow on outer half of eyelid
MAC Modern Heir eyeshadow on outer V (very small amount...you can hardly see it.)
Andrea Modlash #53 lashes

I also added the silver shade from the MAC Royal Assets Cool Eyes palette as highlight later but its too subtle to show up here.
[Lips]
some random lipbalm
MAC 3N lipstick
[Face]
some crappy foundation that was a shade too dark for me thus not worth listing

MAC Emote blush to contour
Everyday Minerals Best Friends blush
I would definitely have used a cooler pink blush in retrospect...but it was too late to switch.
Picture of the eyeshadows I used...because i took the picture so it has to go someplace :P
L-R: Zonk Bleu!, Parrot, Snowflakes, Modern Heir
Oh, and I found the trick to taking pictures that show the colour true to life....I just told it I was a plant. Yes, a plant.
I think this will depend on your camera though. What I did was to set my camera on the 'Foliage' setting. Seriously, the colours were so true to life. The only thing is my skin does look more orangy, so I had to lighten the contrast a little or look like a tangerine!
I haven't tried using the Foliage setting in dim lighting. But I think in that case it would be better to use the Indoors setting.