i can't sleep because the cafe/bar next door downstairs is being really loud :( hate hate hate it!
ok enough negativity...
So because i can't sleep, and i saw
alienman's post
on
Silk Naturals
' sample/shipping offer, I started shopping...
Right now I have in my cart the following:
Ultimate Eye Shadow Brush aka

Double Ended Synthetic Eye Brush

Blush sample of Sassy (matte peach)
Blush sample of Flirt (matte neutral plum)
5 empty sample jars with sifters (to transfer my NYX pigments to)
I'm thinking of getting this too but I'm not sure yet if I really need more mineral eyeshadows:
Whisper
Pink Clone of MA's Her Ladyship

"It has a pink base with sparks of gold, and gold highlights- and an effect that's really other-wordly. "
Also debating whether to get their
Wet/Dry Mineral eyeshadow foiling brush
since I don't have too many synthetic eyeshadow brushes right now. Hmm....
The offer is until Sunday so I probably will wait til Saturday to checkout my order.
***
At the same time, for some reason I decided to check out
The She Space
website since I've been hearing about it from
Christiana's blog
but never looked at their stuff.
Big mistake.
I ended up with
17
items in my cart. Good thing they're ALL SAMPLES, only $0.50 cents each and just $1.50 shipping to Canada.
They do have a 1 week processing time right now though, so I won't be getting them anytime soon.
I must say the colours look gorgeous on the website! Plus Christiana has been doing really pretty looks with them so I hope these are as pigmented as I think they are.
***
Before I forget, I did get my
T'estimo Frame Impact Eyes 01 Green palette
in the mail today!
I took pictures and will do a review soon :)
And why am i shopping freakomaniac? if the above hasn't yet convinced you that is.
Because a few hours after receiving it I went and bought more stuff off AdamBeauty.com -.-
He does things really quickly, I got a confirmation within 45 minutes that my order had been processed and will be shipped out.
Whoa.
I
just
went back to AdamBeauty.com to get the picture of the palettes off his site, and the T'estimo palette in Purple now has the sold out sticker. That means I snagged the last one! Wow I can't believe I could've missed it if I had waited. Now I feel a bit better about ordering so soon again :)
So this is what the stuff should look like:
T'estimo Frame Impact Eyes palette 03 Purple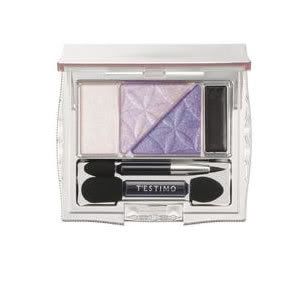 Kate Square Cut Liner in BR-2 Natural Brown



Lavshuca Eye Colour Select in PK-1 Pink