I'm so tired, I can't wait for the weekend! work is getting more and more busy and i am falling behind :( I need to de-stress with makeup! haha ;)
I hope February goes by quick because I'm kinda sick of winter now. I like winter normally, but this year i just don't feel like going snowboarding or anything....so i wish spring would come quick so that there'd be more hours of daylight at least. its a little depressing when its sunny during the day at work, but gets dark when i get home.
***
An old FOTD from last weekend. I had the pictures on another memory card but didn't get to upload and edit them until now. I was trying to get some usage out of my Lorac Showstopper palette as I had purchased it in September but haven't used it much. I think the reason is because colours are a bit too shiny for my taste.
This first picture is how it really looks like in real life. I ended up taking more with flash and in yellowish lighting because it was getting dark, and I couldn't seem to get pics that were clearer without using flash. Also, please disregard my lower lip...it was sorta bleeding because it was just dry :S
Yellow washroom lighting: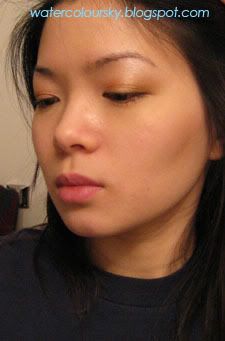 With flash: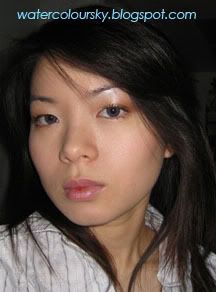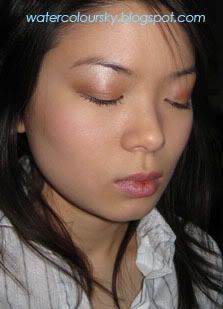 What I used:
Lorac Showstopper palette eyeshadows:
Sand
to highlight,
Serenity
on inner corner of eyelid,
Luxe
on outer corner of eyelid.
I also used
Couture
blush from the palette, and
NYC Fragile Pink
lipstick. Plus the usual mineral makeup + mineral concealer combo...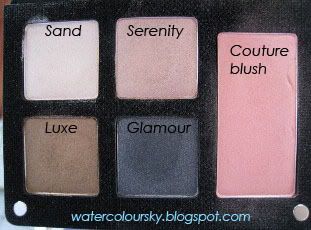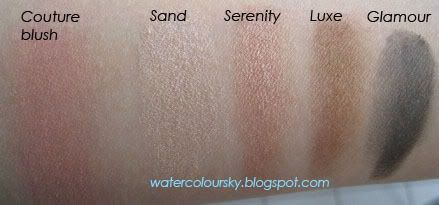 The colours in the palette really impressed me in the store, but you can see from the last pictures that at certain angles with flash, the shadows will make your lids look oily/shiny. Thats one of the things I dislike about this palette.
Other than that though, the eyeshadow pigmentation and texture are excellent. The eyeshadows are quite soft and blendable. The blush isn't as pigmented as the shadows which I like becaus it makes it easier to not overdo it.
I believe this palette isn't on Sephora.com anymore, but some stores may still have it. However this palette is a very basic neutrals palette in my opinion, so its quite easy to get similar and less shimmery colours from other brands.