I checked out the MAC Slimshines today. The formulas felt really nice and went on creamy. However I couldn't get a decent enough colour payoff with a lot of them. The only three colours that I liked were
Funshine
,
Missy
, and
Long Stem Rose
. Now these are permanent so I decided to get only
Long Stem Rose
. However at the counter I realised I forgot to bring my wallet :S so I ended up getting nothing at all.
After that, I went to Sephora to check out the NARS
Orgasm
lipgloss and Tarte cheekstains that I'd been lemming for a little while. The lipgloss was rather disappointing for me. I hate trying glosses on at Sephora with the testers (eww..) so I swatched some on my hand instead. The colour was quite similar to my Dior Ultra Reflect Gloss in
Raffia Orange
, but the consistency was thicker.
Since the Dior gloss doesn't show up on me all that well, I knew the NARS gloss definitely wouldn't show up. So I moved on to the Tarte aisle to look at the cheekstains. The stains were listed for CDN$39! WTH....these are only US$28 on Sephora.com! :( No way am I spending $40 on a blush...I might consider spending that amount on a Dior blush but not Tarte.
To digress, Dior has a LE blush out for $US52 / CDN$54, which looks so pretty!
Dior Flower Blossom
But considering the design would be ruined once I used it, I've decided I really don't need it.
Going back to the Tarte cheekstain, a markup of $10 doesn't make sense. (Not that any markups make sense now that both US and CDN currencies are on par...) Going from $28 to $39 is a 35% markup! The Dior blush for example is only $2 more, while MAC stuff is about 20% markup usually.
Anyway as you can see, I wasn't much in the mood for hauling anything today, even if I had remembered my wallet. However I spent a huge amount of time online checking out Japanese makeup collections. Reason is because my bf's making a trip to Japan soon, so he asked me if there was anything I wanted from there (hell yeah! lol :D)
So I was reading up on Japanese cosmetic lines trying decide what to put on my list :) I wish I could go there myself and test out the products though! its killing me to look at pictures of all these products and not be able to try them out myself.
Oh, and according to
A Touch of Blusher
, the
must try look for Spring 2008
seems to be lilac. Great news for me, because I love purples. I've been digging the purples in the
Shiseido commercials
, and am considering buying that
SV844 palette
used for the look.
I do already have purples from NYX, MAC, and ELF but I want to see how Shiseido eyeshadows fare in comparison.
I also really want the
Majolica Majorca
eyeshadow palette GR741, partly because its LE and because
the Muse
made it sound so good...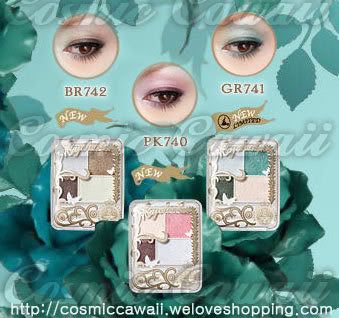 Source