I finally got around to doing proper swatches of some of my
NYX
stuff for the
NYX swatch collection on ABB
. Didn't post any of my trios though because most of them have already been covered by other people. I did actually do the trio swatches ages ago, but never got around to editing and submitting them.
*edit* After looking through the ABB entry again today I realised I have two trios that aren't covered there yet, so I'll be editing and posting those too :)

*edit2*

Shangri-la eyeshadow trio: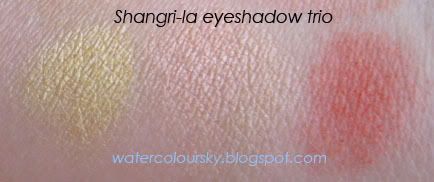 *edit3*

Lakemoss eyeshadow trio: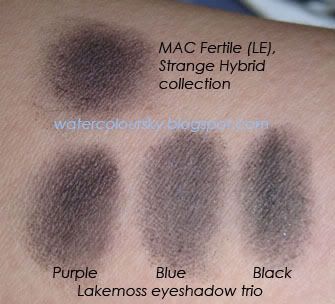 I know they all look the same...:( This trio disappointed me. The colours are clearly different in the pan but they look black when swatched. I included that swatch of MAC Fertile to show that it looks kinda similar to the purple-black shade, in case anyone wants a dupe of Fertile.

NYX singles:
Comparison of Prune single eyeshadow with the Prune from the trio:
For some reason the colour of Prune is pinker in the trio, and more purple in the single...I don't know why. I initially bought the single, then found that I wanted the other two colours in the trio so i have both....which look nothing alike after all.
NYX Ultra Pearl Mania loose eyeshadows:
The yellow gold is a bit more yellow than what this picture shows.

NYX Jumbo eye pencils, lip pencil, liquid liner:
As I've mentioned before the liquid liner really sucks, so I'd advise against getting it. The lip pencil I found is too shimmery, but I might be able to make it work as a base and layering a light, non shimmery colour over it.