I have been using Lancome Aqua Fusion cream since last August - about 7 months now. I have the
non-SPF version
, which I use some nights, and the
SPF version
, which I use whenever I know I'm going to be using foundation that day.
Background on my skin type:
My skin type is what I call 'combination-dry', where my face tends to be dry but the t-zone and chin get oily at the end of the day. But my skin will still get super oily all over when I travel to tropical climates.
(FYI, my HG lotion used to be Ponds moisturizing lotion with SPF, but they discontinued it a few years ago. I've tried other lotions/creams from Neutrogena, and Clarins, but they usually leave my face a bit shiny/feeling a little greasy.)
AQUA FUSION CREAM and AQUA FUSION CREAM SPF - Continuous Infusing Moisturizer


Claims:


"Infuse your skin with moisture! This ultra-charged moisturizer delivers 16 skin-essential elements including Calcium, Zinc and Manganese to keep skin hydrated all day. Oil-free, water-smooth texture leaves skin glowing with health."

According to the Lancome Canada
website
, this product is targeted for normal to combination skin.
Ingredients:

(this is for the SPF version, as I didn't have the box for the non-SPF one.)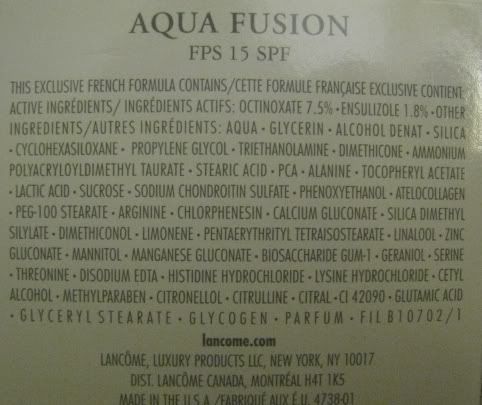 Appearance:
Light bluish gel-like consistency.

The SPF version tends to be more liquidy and runny. See comparison picture below: you can see how the surface of the SPF version is smooth even though I just scooped some out. The non-SPF version is stiffer and you can still see the area where I just scooped some up.
Despite the difference in texture, I find both creams are equally moisturizing. The only thing that bothers me is that the SPF one is a bit hard to scoop out since it is more runny.
Pleasant fragrance. I don't know how to describe the smell, but I can say its more fruity than floral. It doesn't quite fit into any of these categories though. Personally, I love the fragrance! That was what first drew me to the cream. Those with sensitivities to fragrances might have to test a sample of it first.
Performance:
Absorption rate into my skin is fast, feels very light on my skin. Most other moisturizing creams tend to feel heavy. I normally have a paranoia of creams clogging my pores. but not this one, because it feels so light and clean.
Moisturizes my face without leaving a shiny look on my face. Doesn't feel greasy at all.
My skin tends to look a bit cakey in winter with foundation. However I find that the cakiness is reduced if I use this to moisturize after washing my face in the morning.
Price:
US$37 on
Sephora.com
. I usually like to wait for the department store counters to put on their gift with purchase promotion to repurchase this product as it is quite expensive especially in Canada. I don't remember the exact price I paid at The Bay, but after including the 13% sales tax we have in Ontario :( , it ended up costing over CDN$50. At least I got a gift with purchase...
Can also be purchased on Ebay for less - my first jar was off Ebay.
Overall:
Does it meet its claims?
Yes - it does give the "oil-free, water smooth" hydration to my face. I don't know if those "16 essential elements" are the key to it, but whatever is in there works well for my schizophrenic skin.
Pros: -
Feels light on skin, absorbs quickly
Very moisturizing
No greasy feel, does not leave a shiny look on the face
Cons: -
Expensive
Pot format, which is less sanitary (I transfer my product into smaller jars usually to lessen contamination.)
Fragrance may be overwhelming for some (make sure you are okay with the scent before buying)

If you have oily skin but am still interested in this product, there is also an
Aqua Fusion Lotion
, which is for oilier skins. It comes in a pump style bottle so it is also more sanitary.