I went snowboarding on Friday and now my legs are stiff. Didn't remember hitting my knee at all but now there is a nice bruise on the right one. Strangely, my butt was bruised on saturday but now its gone, while the knee bruise and stiffness only started showing itself today. weird...
Haven't been online very much the past couple days. mostly because I was mentally wiped out from work, and now physically wiped out from snowboarding (because I am such an out of shape wuss...lol)
I did get off my (bruised) butt though and make myself a dinner of chicken wings and baked potatoes :) I stupidly overdosed on the pepper, which i shouldn't have because my skin has been looking irritated lately. There are some reddish patches on my cheeks now, which really worries me because my skin doesn't do that very often. I think my system is too "heaty" right now so i really should've cut down on hot/spicy foods. any suggestions on what cooling foods i should make for myself?
I hope my T'estimo palette will be in my mailbox when i get off work tomorrow...but I think its too soon for that.
I sorted out my traincase last weekend, and am a bit depressed at how little of it I actually use :( Having many blushes and eyeshadows are fine by me, but I have a lot of drugstore lippies/lipglosses that just don't work for me :( and they just sit there making me feel guilty about not using them. I might have some kind of clearance sale / giveaway just to get rid of those things that don't work for me. Will be looking into shipping costs first, and also maybe i'll wait until i have a bit more time to spare.
Oh and I also just revamped my labels, so it should be easier to navigate :)
Green EOTD/FOTD: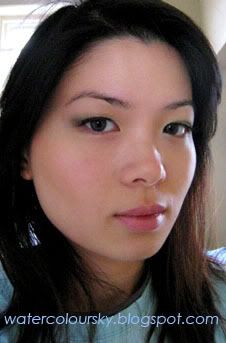 Picture is a bit blurry...because at the time of taking this pic i hadn't figured out the trick of taking clear, true to life colour pictures. But I discovered it today so my next couple FOTDS will be better :)

Here you can see that the Ardell InvisiBand Fairies are super crazy long...a bit too long for me to wear during the day. At least not in the company of people I know that is :P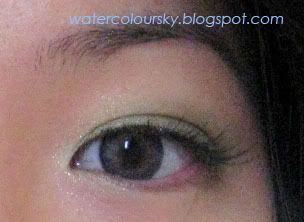 I love MAC 3N lipstick. It is the FIRST and ONLY nude lipstick that, without any concealer, shows up true to life on my lips, and mutes them just the right amount. Am wondering if I really need a backup of it though...I don't really believe in backups because I figure there's always going to be a new product that is just as good by the time the old one runs out. But then ...a good lipstick is such a rarity for me...
Yeah...my lips are dry :S but see, even though they are dry, 3N doesn't show up cakey at all. I'm so surprised that it even shows up because its a lustre and I always thought lustres are the sheerest MAC lipstick formula. A lot of frost lipsticks don't even show up on me (like Sandy B. for example...). I have a hunch now that it is the shimmery lipsticks that are sheerest and don't show up on me, rather than whether it is lustre versus frost.
I gotta say thanks to blogger
psychoexgirlfriend
though, the only reason I checked out 3N lipstick was a comment she left on one of my entries. Otherwise I wouldn't have gone back to check it out again...so thank you :)
For anyone thats interested here's what I used for the eyes:
Wet n Wild

Mega Eyes Envy cream eyeshadow all over mobile lid as base

Everyday Minerals

Pressed Olive eyeshadow on inner corner

Everyday Minerals

Cypress eyeshadow on middle of lid

Silk Naturals

Lush eyeshadow on outer corner of lid

Everyday Minerals

Tinsel Time eyeshadow in crease

Ardell

Invisiband Fairies with DUO clear lash glue and Sephora Lash Placement tool :)