This look
is so pretty, it makes me want to rush out and buy the Shiseido hydro-powder eyeshadow now...
Hydro-powder eyeshadow in
Violet Visions
And beauty blogs are just so addictive! I was going through A Touch of Blusher again and found a
post
on Maybelline Dream Mousse Eyeshadow and now i just have this 'need' to go to the drugstore and get it....Except that I did, but the Shoppers Drug Mart near me doesn't carry them! :( I don't think they're discontinued, since they are still on the Maybelline website. I probably just need to visit a bigger drugstore.
Lilac Cloud
is the colour I want: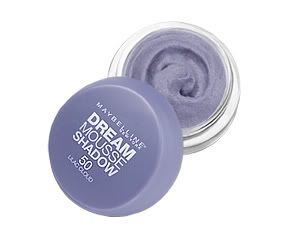 I like the other turquoise colour she got, but I don't see it on the Maybelline website so I must not obsess over it...
Also, I saw this Pop palette because of
the Muse
and now i want it :S
Mostly because I think it would've worked better than the NYX for the Clarins look I did previously.
Pop Beauty Lid Neon palette
But I have to resist all of these except the Maybelline perhaps. Reason being the closest Sephora and MAC is too far to get to since my bf isn't here to drive me for the next couple weeks...lol. Perhaps this is actually good for my addiction then....:(
And I want my
T'estimo palette
already! This week is going by too slowly :S
Its supposed to arrive early next week hopefully, as long as Canadian customs doesn't give it a hard time.
*Edit* Psst! if you are a fan of Snowkei, she just
posted
what seems to be her MAC collection. It seems less than I thought, but she does have tons of pigments. Also I guess if this is just MAC I would love to see what she has from other brands :)