i burnt myself while making dinner today :( was careless and accidentally reached over the rice cooker steam vent to get something , and the steam hit a spot on the inside of my arm. Now its all red and angry, sigh. my bf put some polysporin on it but said from the look of it, its probably gonna get worse :(
but anyway, these are some drugstore products I picked up here and there in the past month. As you can see I really do need this 2 month ban i'm on :)
some skin and hair stuff:
Boots No. 7 Botanicals Ultimate Eye Lift gel (because of the Muse's review...)
Garnier Fructis Anti-split ends serum (because Vanessa uses it and she has gorgeous hair...*jealous*)
Burt's Bees More Moisture Raspberry and Brazil Nut shampoo
Makeup of course:
Almay Play up the brown in Purple Amethyst (they changed the brush! i hope this works better than their old brush which clumped bad!)
Maybelline Mousse eyeshadows in Lilac Cloud and Turquoise Dream (so expensive! they were CDN$9 each...)
I also got NYC translucent powder (not pictured) for prepping when using shadows that tend to give me fallout like the Japanese ones and my mineral makeup. But now I really want to try those Shadow Shields I saw on the Muse's
blog
. Those look so much more convenient. Wonder if they're sold in Canada yet? Maybe I'll be cheap and try making some myself lol :)
oh and somehow for the Maybelline mousse shadows, i got similar colours as the Shiseido hydro-powders:
But of course the Shiseido ones are more pigmented. The Maybelline ones are quite sheer. I think all 4 would be perfect for doing this look though: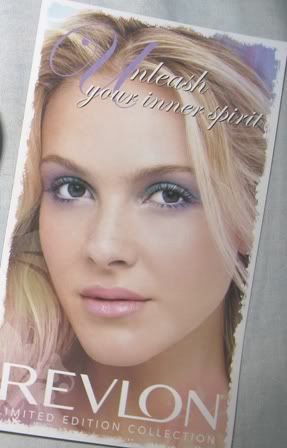 The look on this model supposedly uses Revlon's new loose powder eyeshadows, but I wouldn't bother getting those as they cost so much in Canada $15, plus I don't like loose eyeshadows that much.
Also, my bf got these from HK as he stopped there enroute to Japan, but didn't give them to me until now.

i'm not sure how that makeup remover is going to be effective since it seems water based...? i think i'll be paranoid it isn't cleaning my face enough.