I got my Leap Year haul from Coastal Scents last week....which arrived in my mailbox ripped open :(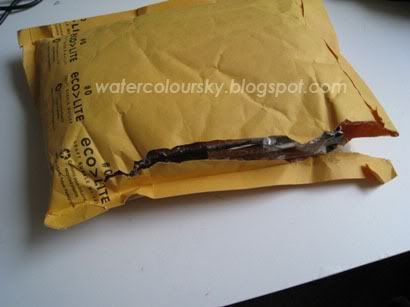 At first I thought someone had opened it on purpose to see if there were any valuables inside. But then I noticed there was no customs declaration on the package, so most likely it was Canadian customs that opened it. So thanks a lot, Coastal Scents for your incompetence :S I was lucky nothing was missing from the package, because customs didn't even tape it back up, freaking retards.
In any case this is what I picked up: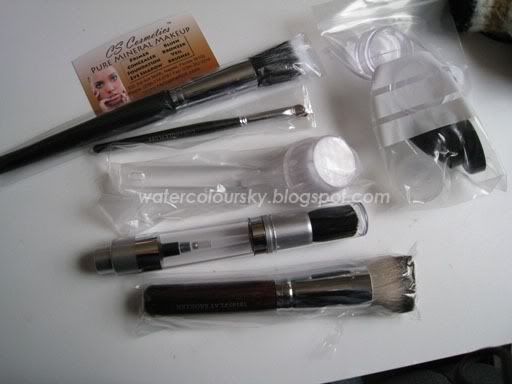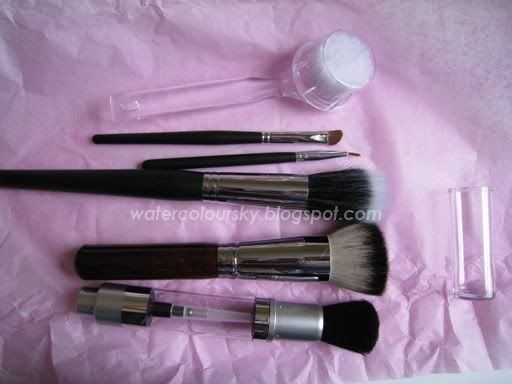 Closeup of the brush heads:
Brief rundown:
1. Eyeliner brush is now wonky due to inadequate packaging -.- I'll wash it and see if that'll help put it back to shape.
2. Angled eye brush is a bit stiffer than I was expecting...not something I'd recommend to anyone.
3. Face cleansing brush is okay. Nothing to rave about, the bristles are supple, but the tips are a bit scratchy. Also I don't like how there are 2-4 'mutant' bristles that are a lot longer than the rest....
4. Powder dispensing brush I've yet to try, will update when I do.
5. Duo fibre brush - very soft. Bled a little during washing, a few hairs shed. After drying the brush head was very fluffy.
So far I've only used this for blush and it works great but the brush head is too fluffy :( so it spreads blush over a larger area than I would like :( Also, because its so soft I don't find I have much control over the application as with my other skunk brushes. We'll see how it does with mineral foundation.
6. Italian Badger brush - very soft and dense. No bleeding during washing, no shedding either. Like the duo fibre, it becomes fluffier after washing and drying.
I was afraid it'd have some funky bleeding problems after reading Ilurvemakeup's experience with hers, but mine was ok in the first wash. It does have the smell people describe as "wet dog" smell, but honestly, if I hadn't heard that term I wouldn't have thought of the smell that way. To me it smells more like lacquer and brushes, haha I don't know how to describe it. But fortunately for me I don't get bothered by it. We'll see how it does after some more washes and uses.