A few people were interested in the Majolook palette from Majolica Majorca I acquired courtesy of my bf, so I did a FOTD using it with Silk Naturals Sassy blush and Coffret d'or lipstick/gloss combo.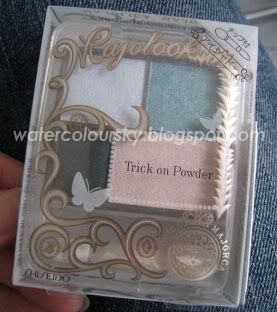 Some swatches first so you get an idea how they (sorta) really look:
Majolica Majorca Majolook GR741: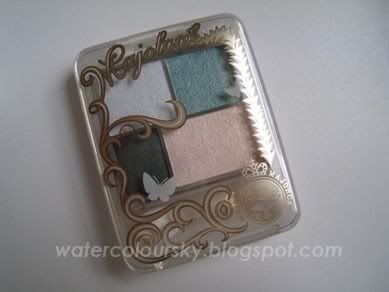 Colours swatched clockwise: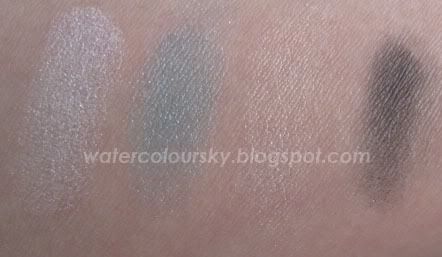 My shade descriptions from L-R:
Highlighting shade
- Light blue-green shade with silvery shimmer
Main colour
- Teal green shade with silvery shimmer
"Trick on powder"
- champagne-gold shimmer, has an iridescent look to it
Liner
- Dark green-black shade with minimal shimmer
The colours were sheerer than MAC but still pretty decent. I know that Japanese makeup is known more for being sheer and shimmery so that was to be expected.
In this case, I noticed that the Majolook is less shimmery (and less fallout) than the previous palette I reviewed (
T'estimo Frame Impact Eyes
). Definitely a lot easier to work with despite the cheaper price tag. I didn't have to do any cleanup afterwards at all ! There is some fallout after a few hours, but it was so little I only noticed because I was closely checking for it. Its not something others will notice on your face.
Texture was nice - soft and blendable. A review I read on MUA on Majolook palettes described them as "buttery", and I would have to agree that is the perfect word to describe them.
Coffret d'or Combient Rouge 06 Peach Blossom: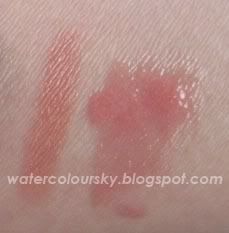 Description:
Sheer peach-apricot lipstick
Sheer pink gloss with fine gold shimmer
I love the colours A LOT. Too bad the natural pigmentation of my lips kills the softness of the colour. I was lazy to use concealer, plus I knew it wouldn't work that well...usually concealer doesn't help much because it rubs off when I apply lipstick on top. But I still like how it looks on my lips, it makes them a more peachy pink red rather than just red.
Silk Naturals Sassy blush
as from my
previous post
:
I had to pack on A LOT of product to get it to show up. Its probably because I'm too used to dealing with Everyday Minerals super pigmented blushes. I usually pick up the absolute minimum amount I can with EM, but this time I kept on picking up product and it still barely showed up!
Still a really pretty, soft colour though. I think its lack of pigmentation would still make it a suitable blush for people that tend to have a heavy hand with blush.
FOTD:Eyes:

I did the eyes according to the instructions on the box: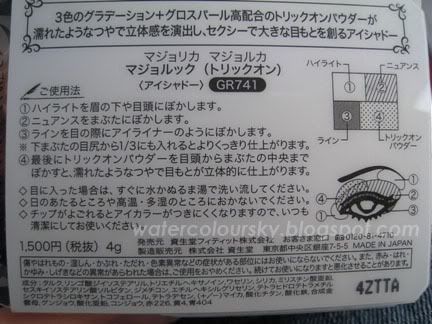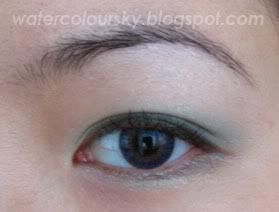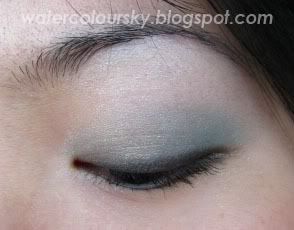 Blush:
MAC Emote was also used to contour....
Lips:
Just remember my lips are really pigmented naturally so it won't look so red on most people...
Overall:
Ok, can't see too much here because I didn't bring the shadow up too much AND my right eye was having its monolid day lol....sorry I don't have a better pic :S
But you get the idea that all 3 products are very wearable, right? :)