I hesitate to do a full review on the T'estimo Frame Impact Eyes palette since I am having a problem with eyeshadow fallout. The shimmer in the shadows keep falling on my face after wearing it for an hour or so. None of the other reviews I've read have mentioned this problem, so I'm wondering if it could be a problem with not using enough primer or packing on too much?... I will try a couple of things before posting a proper review.
For now here's some pictures of the palette and my FOTD using it.
T'estimo Frame Impact Eyes in 01 Green and Sana Oil Paper:
The Sana oil paper was included because AdamBeauty.com charges a $2 automatically for registered mail, but I wanted it to be sent via regular mail as I couldnt' be sure there would be anyone home to sign for the package. So he substituted the oil paper instead. Would be nicer if he would refund the $2, but oh well...i can live with that.
The back of the box with a diagram and instructions on how to use each shade. I love how all Japanese products come with instructions.
Instructions closeup:
The palette exterior:
There is a faint scratch on the cover :( I guess it happened during production of the palette because the box was still sealed in clear plastic shrink wrap.
The palette interior:
There is a clear plastic sheet that numbers each colour so you know which corresponds to the instructions on the box: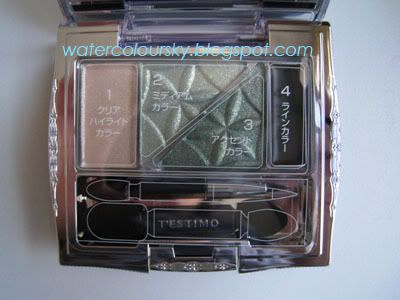 Swatches:
L-R: beige-y cream base (lots of shimmer/glitter), light green shade (some gold shimmer), dark green shade (some gold shimmer), dark green cream liner (matte)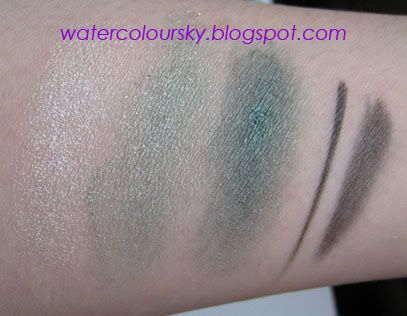 Size comparison with an ELF palette (same size as a MAC 4 pan palette):
The oil paper has a nice plastic sleeve to protect it from wear and tear: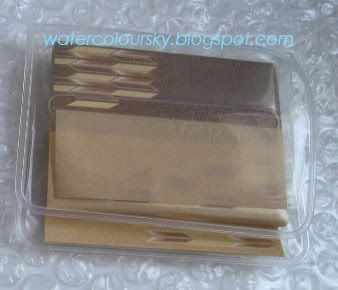 The back of the oil paper sleeve:
EOTD using the palette:
On the day I received it I tried following the instructions at the back on one eye but it didn't work out because I don't know how to do a horizontal gradient look...I usually blend vertically as can be seen in my other FOTDs.
So I used my normal vertical gradient method on the other eye instead as shown here: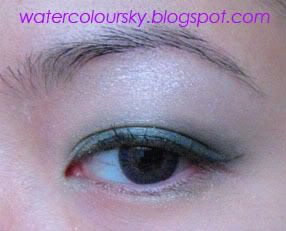 Light green shade on inner corner of eye, dark green on outer corner, cream base to highlight under browbone, and cream liner on top lid: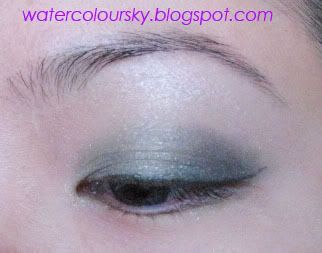 These pictures are a bit dark because I did this in the evening after coming home from work. I was lining my eyes with only one hand (which I never normally do) because I was holding the palette with the other. Suprisingly I ended up liking the liner wing on each eye. Usually I screw up the liner even when using TWO hands.
But I tried lining with one hand yesterday using MAC Blacktrack Fluidline, and the result wasn't that good. I think the reason is because the cream liner in the palette feels much creamier and softer than Blacktrack. But the colour intensity isn't as strong though, I do have to layer on a few coats if I want the liner to look intense. This can still be a good thing because it helped make it idiot proof for an inexperienced hand like mine.
But anyway, I digress. Here's the FOTD that I did the following day, in better lighting:
Also used was Rimmel blush in Apricot, and MAC 3N lipstick, plus some foundation.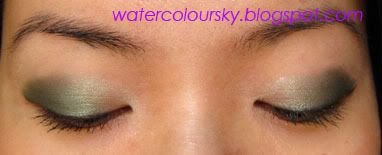 Yeah the blending was sloppy here...I don't know what I was thinking :S
This time though, I used the cream base only on the inner corners of the eye instead of on the browbone because I wanted to see if there would be less shimmer fallout that way. It helped reduce it but not eliminate it.
There's a big difference when I switch from Foliage mode to Indoor mode...even though this was taken indoors by a window. The colours are a bit more washed out and my skin looks ashy :( Actually it looks similar to the ones I took in the evening.
This picture is so bleached out because I was too close to the window and in the wrong camera mode. But it does show the colours :)
I think I look creepy smiling at nothing in particular...haha. I thought it'd be a good idea since some comments have mentioned I should smile more but darn it, it looks fake when I try to do it...
And this picture was weird, I like this angle a lot but have no idea how I did it lol. But yeah, this is totally irrelevant to the FOTD as you can't see the colours much...
So yeah...I think I'm going to review it properly along with the 02 Purple palette when it arrives. In the meantime, I'm going to try spraying with some homemade Fix+ (aka glycerine + water mix) to see if that helps set the shimmer/glitter in the shadow and prevents it from falling.
Update: It seems most of the fallout came from the top layer of the product. The more I used it the less fallout there is now. I still always use it with a primer though - usually UDPP. It still has the best green shadows I've seen so far.