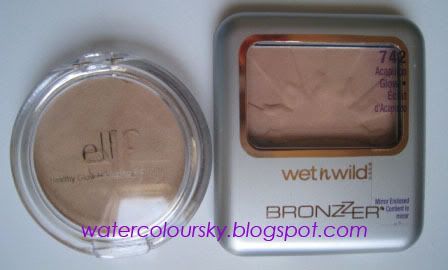 ABB's
Snugglebunny
requested some swatches of the highlighters since I recommended them, and since I've been meaning to do some reviews on the makeup I already own, I thought I'd write up a mini review/comparison of the two :)
Unfortunately the ELF one does not have the ingredients listed - I think they were on the cardboard packaging instead. But these are the ingredients for the Wet n Wild: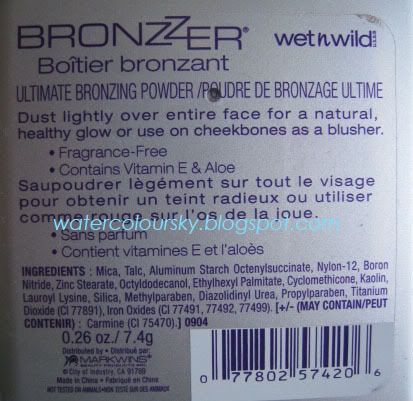 Note that even though both are labelled "bronzer", neither are dark enough to be a bronzer. They go on quite sheer on my skin and gives a nice subtle sheen: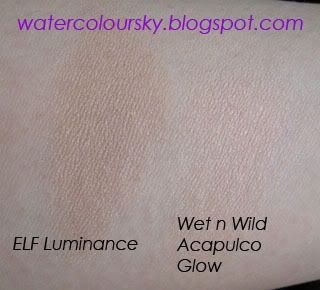 Wet n Wild tends to be more champagne-y while ELF is more yellowy/gold in tone. Even though the swatches might make ELF Luminance seem significantly darker, the difference is very slight in real life.
As you can see, these have a nice finely milled texture, although I find the Wet n Wild to have the better texture of the two.
I find highlighters are kinda hard to show up in pictures, so I swatched some Silk Naturals Dait Bait powder and Everyday Minerals Fairly Light to help with colour comparison purposes...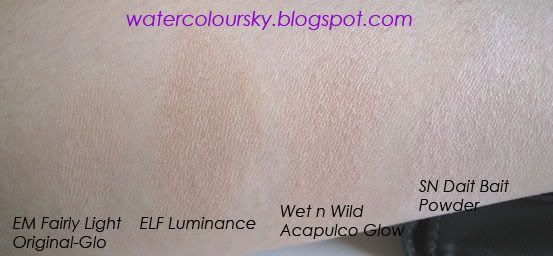 On paper:
I don't know why but even with lots of light the white paper looks blue and the swatches look a bit brown....ELF Luminance for example is more golden, not brown like that :S (...I guess it could work as a bronzer for paper face charts ...?)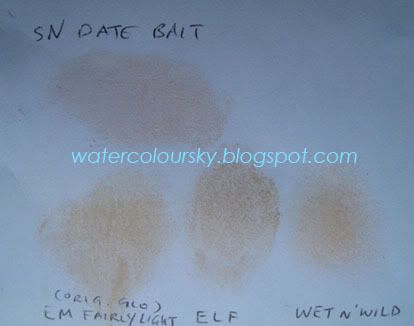 By the way I think these are actually better than the MAC Fafi iridescent pressed powders...the texture of these are way finer and silkier. Plus no annoying chunky glitter either! (But I still caved and got Sassed-up...because I can't resist the packaging...:S )
My personal opinion:
Both products are great, however I'd go with the Wet n Wild one because the texture is slightly better and it does have a tiny mirror and brush (even if it is a crappy brush haha). The packaging is also more durable compared to ELF.
The ELF highlighter is kinda loosely pressed into the pan so it breaks easily (I've dug my nail by accident into one of their other bronzers and broke a chunk off, haha.)
But the ELF one IS more compact, and is cheaper if you get it in a store. Just don't order it online unless you happen to be ordering a lot of other stuff as well with a discount, because their customer service still needs A LOT of improvement.