who says you can't get new makeup when you're on a ban? ;)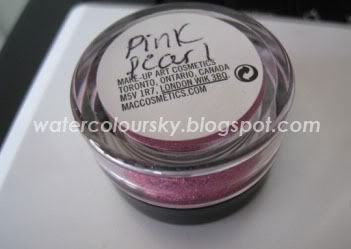 ^sample of Pink Pearl pigment courtesy of a MAC counter :)
***
So
Nic Nic
asked me to compare Maybelline Mousse Lilac Cloud eyeshadow with MAC Beautiful Iris a week or so ago. I've also noticed though that the ELF Wisteria eyeshadow resembles Beautiful Iris, so I decided to throw it into the mix.
Under different camera settings - the real life colour is somewhere between these two pictures actually.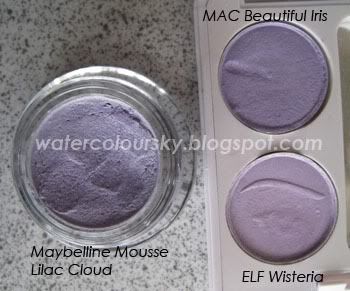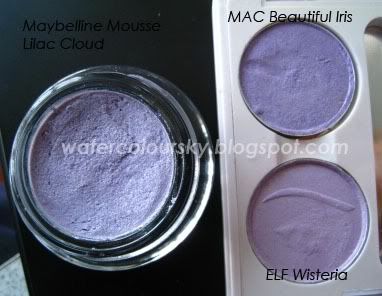 Swatched, no base whatsoever.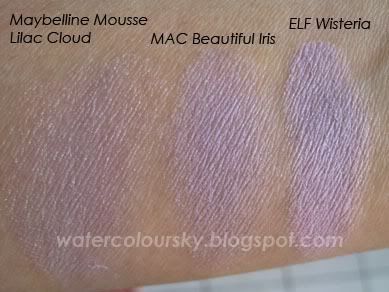 Maybelline Dream Mousse Lilac vs MAC Beautiful Iris:

As you can see, the colour is less pigmented than the MAC or ELF colours. In fact a LOT less pigmented. One single swipe yields mere shimmer, so it took a lot of swipes to get the colour to show up like that. The texture of the shadow is nice and moussse-y, but thats about it. I don't think anyone else would like this eyeshadow really....I'd definitely use it for a barely there natural look, but I would not recommend this to anyone. Simply because its too expensive for a barely-there colour - it cost me CDN $8-9. Oh well. So definitely nowhere close to MAC's Beautiful Iris.
ELF Wisteria vs MAC Beautiful Iris:
The ELF shadow is quite close actually in terms of pigmentation and colour when swatched. However MAC is still superior in some respects. Firstly, the MAC colour has a blue undertone/duochrome thingy (I don't know what is the right term! lol) while ELF is a straight light purple colour. Also, the ELF shadow is softer in texture, which is great for application, but that also results in less staying power than the MAC shadow.
So between the ELF and MAC, I guess it depends on what matters more to you, and the price difference :) Definitely would not recommend the Maybelline though.