For
Grayburn
and others who were interested in the Burt's Bees shampoo I got, the review is coming soon, I promise :) I'm not sure what to write about it though ...I don't know what other people want to know about shampoos? Maybe I need to use it more first too. Also, I want to try the matching conditioner but all the stores that I've been to that carry BB, are out of stock on it :(
Like
(g)ezebel
, I've been trying to catch up on other blogs too but its tricky. See, I read ALL of them...at work, usually through my google feed reader, shhhh! But I can't comment on them there because I'd have to visit the actual site and that would show up in my history log....Not something I'd want upper management to see if they check it. Sigh. I usually "star" them for later so I can go back to it but right now I have like 300 posts starred lol. Sorry guys :(
So I've been wondering, is there a way to comment on a post through a feed reader??
***
Emilee
@ GirlMeetsMakeup.com asked me to review the Kate gel liners I got recently.
I got the purple, gold colours
from Japan
and then ordered the silver colour online.
So, first thing I noticed about them is they are smaller than MAC Fluidlines. They are a bit cheaper though so I think it evens out. Am a bit too lazy to do the math right now :P
Size omparison with MAC Blacktrack Fluidline: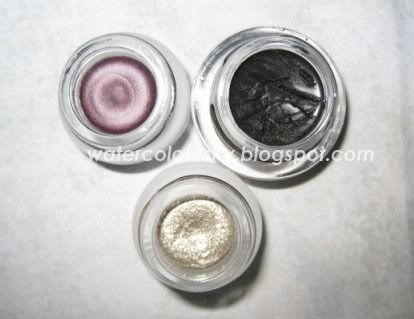 Swatches and descriptions:
Note that I had to swipe the colour on more than once (about 2-3) times to get a nice unbroken line for the metallic liners. The metallic ones are more similar to glitter liners than gel liners. The purple one is smoother and the colour goes on with 1 stroke but you can build intensity with more swipes.
Silver - like a platinum silver colour.
Gold - is more of a faded/pale-gold colour , not a yellow gold at all.
Purple - reddish purple (i.e. dark purple with reddish shimmer)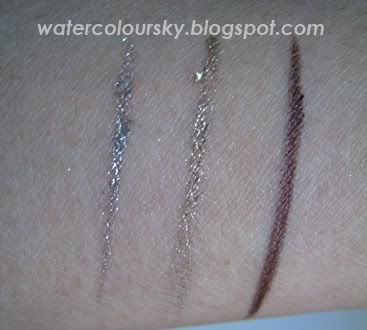 Purple liner on top, paired with gold liner on the bottom: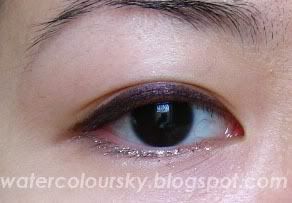 Silver liner on bottom only:
Note that one thing I can't cover yet in this review is the staying power....because I haven't had the chance to wear the liner out on a hot day and see if it lasts (being still cold in Canada and all).
But anyway, I like the colours, which are quite different from the existing MAC Fluidline range. The purple liner goes on quite smoothly like Fluidlines do, so that I would definitely repurchase if they came out with more colours.
The silver and gold liners are more like glitter liners, while the ones from MAC are more gel-like. So these Kate ones are quite unique BUT can be annoying if you don't like the glitter consistency. I personally find it a bit annoying that the product doesn't go on smoothly, but I find liquid glitter liners have the same problem also.
One thing to note is that unlike Fluidlines, the texture of the Kate gel liners seem more suited for being liners only and not bases. The metallic ones would definitely not work as bases since they don't go on very smoothly. The purple is a bit more creamy but still...not quite the same as MAC.
So if you want your products to multitask as bases, stick to Fluidlines.
In summary -
I like the purple one because I know i'm going to use it as a liner only and it works well for that. The metallic ones are super pretty but I'm not a fan of the texture :( They're something to try, but I wouldn't repurchase the metallic ones.