Mini Q&A:
Fiona wanted to know how much shipping for Everyday Minerals costs to Canada - it cost me $5 for the sample kit. The last time I ordered, I got stuff worth $30+ so it cost me about $8 then. You can get an estimate by checking out, as long as you don't click on the Confirm Payment button just yet :)
Also, Anonymous wanted to know how much I got my NYX pigments for. I got mine for $5.99 at PharmaPlus / Rexall. Kind of expensive, but those are the only stores that sell NYX in Canada :( But its a LOT cheaper if you order them off Ebay or CherryCulture.com.
***
Ok, I've decided to finally do the review on the Burt's Bees shampoo even though I feel like I don't have much to say about it :S I was thinking it'd be a lot more useful if I had gotten the matching conditioner, but it wasn't in stock at the drugstores I went to.
I did see it at Whole Foods Market, but Whole Foods was charging a ridiculous price for the Burts Bees stuff :( The shampoos and their matching conditioners were $12.99, while the regular price at Shoppers is $9.99....a $3 markup??
So I ended up buying a different conditioner from Whole Foods to try - the Shea butter one. This is probably also overpriced at $14.99, but it was a Burts Bees product I haven't seen in any other stores, and I really needed a good rich silicone-free conditioner. This one doesn't come with a matching shampoo so I figured it should go well with any other BB shampoos.
Burt's Bees More Moisture Raspberry and Brazil Nut shampoo, & Shea Butter and Grapefruit Hair Repair conditioner: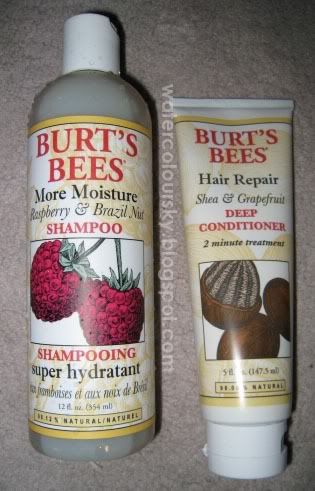 Ingredients for More Moisture shampoo: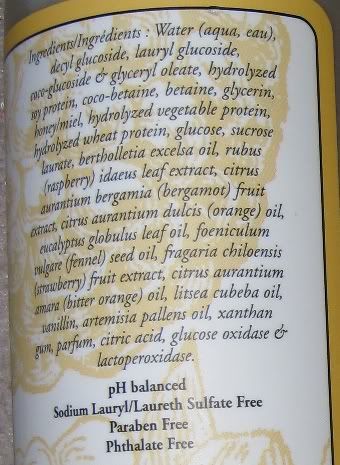 This is the second Burt's Bees shampoo I've used. Previously I tried their Colour Keeper shampoo. It smelled awesome and cleaned my hair fine, but didn't do much to prolong my haircolour despite the claims.
Since my hair isn't coloured anymore (except for the ends that are growing out anyway), I decided to try something else. I wanted to continue with Burts because I like the fact that its sulfate-free. I've heard that sulfates dry out your hair more and since I already have dry, fine hair, it needs all the help it can get.
The shampoo cleans my hair nicely. Lol I don't know what else to say - other than I like that it does what a shampoo should do minus the sulfates :)
Note that Burts Bees shampoos, because they are sulfate free, do not foam up as much as regular shampoos. So it might feel like you need to use a lot more product to clean your hair. However thats not really the case - you just have to get used to using the same amount but with less lather present.
Only thing that bothered me the first few times I used it is the scent. I was expecting a raspberry scent, which IS there, but its not quite the usual raspberry scent you get from lotions and stuff. I thought the scent smelt a bit 'fishy' at first lol :) So I read the label and they mention that the raspberry extract contains omega 3 fatty acids! I'm thinking that might be why.....Does anyone know if omega 3 fatty acids smell fishy even if they come from non-fish sources? Hmm....But anyway, the smell is fine after you get used to it. Just take a whiff at the store before you buy it to make sure that you will be ok with the scent :)
Ingredients for Hair Repair conditioner:
I love this conditioner. I have tried Burt's Bees Colour Keeper conditioner before, and that one sucked :( It didn't condition my hair enough and left it tangly. However this Hair Repair one is much richer, and smells awesome because of the grapefruit scent. It works best if you squeeze out the water in your hair as much as possible before putting the conditioner. I've used it a few times now and it leaves my hair smooth :) I do still use a bit of my usual Kiehl's hair serum oil to smooth the ends but I have a lot less trouble with brushing it due to this conditioning this product does :)
The reason I got this product was because I've read somewhere that you should use silicone free conditioners together with sulfate free shampoos. With regular drugstore shampoos, what they do is strip your hair clean with the sulfates, while the conditioners contain silicone to balance it out. But with a sulfate-free shampoo, using a silicone containing conditioner would add to product buildup and probably make my already fine hair flatter :P
Normally, with regular sulfate containing shampoos, I use Johnson & Johnson's Kids Detangling shampoo because my hair just gets tangled like crazy otherwise. But I hate that it weighs my hair down more and if I use too much, makes my hair feel greasy faster. I believe its because of the silicones in the product. None of these things happen with the Burts Bees, and from looking at the ingredient list, it seems silicone free :)
To summarize
- Thumbs up for both products :) Just make sure you are ok with the scent of the More Moisture Raspberry shampoo.
Final note: I don't use any hair styling products like hairspray or mousse or serums at the moment other than the Kiehl's Silk Groom serum, which is oil based. So I'm not sure if it will clean hair effectively if you use a lot of those, since this isn't meant to be a clarifying shampoo. But it works well for a simple haircare routine like mine :)
P.S. To Canadians: Don't buy Burts Bees from Whole Foods - its overpriced. Even the online Canadian site (
http://www.forever-natural.com/
) is cheaper than Whole Foods. The shampoo is listed for $10.99, which is $1 more than Shoppers Drug Mart but $2 less than Whole Foods Market. Also, if you buy over $50 you can get free shipping!