Review on Lunasol Sheer Contrast Eyes in Lavender Coral that I got
recently
:)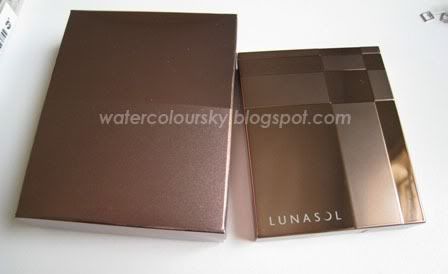 Swatched: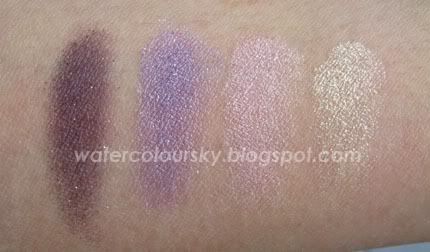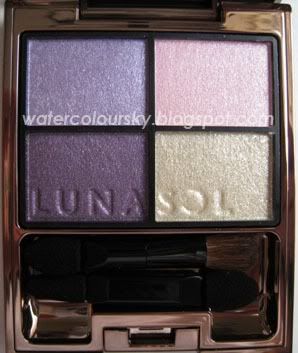 Note that 2 double sided applicators are provided - each shaped differently for application on a different part of the eye! Pretty convenient.
Suggested application method: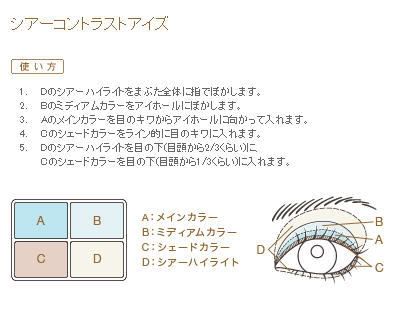 Basically the picture indicates to use the lightest gold shade to highglight browbone and inner lower lid, pink shade between crease and highlight, light purple all over lid, and dark purple as liner on top and outer bottom corner.
The colours are more of the sheer but shimmery-sparkly side. No UDPP or any other eyeshadow primer used in the 3 eye pictures. I did just one eye to see how it looked in daylignt so no mascara either = puny lashes :P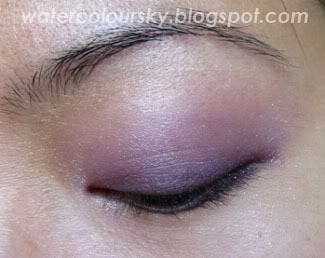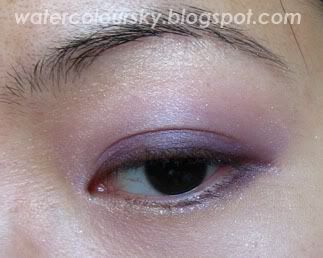 Under washroom lighting...
I DID use UDPP this time btw. And lol I look so...snobbish here, ignore that please :P
Also the usual stuff: EM Light Intensive foundation, EM Intensive Light concealer, Silk Naturals Sassy blush, MAC Emote blush, MAC 3N lipstick, MAC Spring Bean Lustreglass.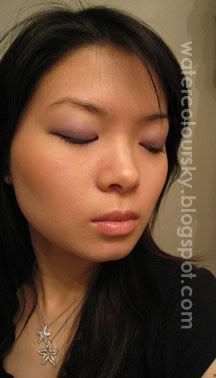 With flash...
The colours show up nicely with flash unlike some other eyeshadows - I think the flash brings out this type of shimmery colours better.
Pros:
Subtle but definitely more than a no makeup look
Can be amped up for a smokey purple look if you bring up the darkest shade more and smudge it. Here I used it mostly as a liner.
Comes with its own sponges that are shaped specifically for application of each shade - I didn't have to use my eyeshadow brushes with this AT ALL.
Convenient for travel - comes with a mirror and the abovementioned sponges.
Sleek metallic packaging all over
Cons:
Some fallout when wearing it, with or without UDPP as a base.
Maybe too sparkly and shimmery for some
Colour is more sheer - doesn't show up intensely in pictures.
Expensive (5250 yen, about USD52) - there are cheaper lines from Kanebo that are of similar quality i.e. Coffret d'or and T'estimo.
Overall I love this palette, and will definitely use it a lot. However because of the price I probably won't rush out to get the other shades unless they come out with something unique for their fall collection this year. If you detest fallout and sparkles then stay away from it. However, its worth trying if you like shimmery subtle shades.