To continue with the haulage....on Saturday I decided to go to Bloor-Yorkville area downtown since I wanted to check out the mens section at Holt Renfrew to look for a gift for the bf. Also I wanted to check out the Guerlain boutique, and the Lancome counter at
The Bay
which has a GWP until May 11th.
Holt Renfew
was quite disappointing. They had their whole underground level and part of the ground floor for guys stuff, but there wasn't much variety there. I couldn't find anything in
Harry Rosen
, or any other stores either. I had an idea of what things I could get him, but the styles were either unsuitable or the colours didn't suit his taste :P Finally, I found something he might like at the last store I went into, but I'm still quite undecided about it. Mostly because I know once he sees it he'll say I shouldn't spend so much money...
But I did of course find some things for myself :P
My favourite item out of this whole week's haulage is the
Masaki Matsushima Cherry Eau de Parfum
:
I don't even know how to describe it, but its very pleasant, and falls into the fruity-floral range which is my usual taste. I don't like oriental type musky or vanilla-ish scents...I find I get tired of those after awhile, but not with the fruity/floral ones.
Notes: (from Sephora.com)
Cherry, Blackcurrant, Bilberry, Watermelon, Lotus Flower, Cherry Blossom, Sweet Pea, Raspberry, Crystal Musk, Blackberry.
At The Bay department store, I also ended up getting two pink lipsticks because of the
GWP at Lancome
.
302 SOS Pink
(the lighter one) which has a cream finish
318 Rock Icon Fuschia
(the same one as Nicnic :), has a reflects finish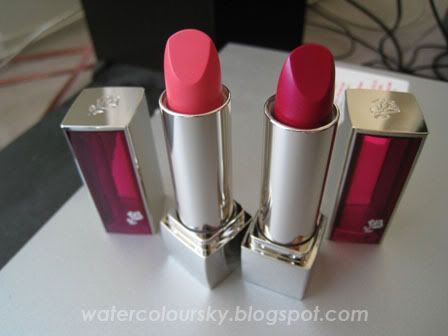 Anyway I don't know what was it about Saturday, but the SA's I encountered were either nice...or well, strange. Case 1: I was walking through the Bay past the Shiseido counter and the SA grabs me and starts raving about how gorgeous my lashes are. She kept saying they looked so natural, which is really nice of her and all, and I was feeling kinda flattered. Then out of the blue she said "oh you're so young but you have lines already, not good!" and proceeds to push some serums and creams on me :S How
sweet
of her to say that to a potential customer...:/
Case 2: Guerlain SA - I usually try to think the best of strangers, since I don't know them, but that woman seriously had a poker stuck up her you-know-where. Honestly! She kept talking down to me, but in an underhanded way of course. And she implied I had heavy makeup on, just because I had fake lashes on. The same fake lashes that the Shiseido SA said looked "very natural".
Plus she just wouldn't let me peruse at my own leisure. I went in there because I wanted to check out the Guerlain loose kohls. I was testing the colours on my hand to see which ones were nice, but she'd keep hovering, even though I said I wanted to look around a bit first while deciding on a colour. In the end she annoyed me so much I just said "I'll come back later" and left.
Btw I'm sure my lashes were at least decent, because my bf loved them, which I did not expect at all :) He likes natural looks and the Japanese way of wearing makeup, so he doesn't like too much eyeshadow on me that much even though I love eyeshadow lol. He's not a fan of red lipstick either.
I have noticed a pattern with SAs though. I find the ones working at stores/counters downtown Toronto tend to be more snooty, while the areas updown are a lot nicer and more down to earth. Also I find Sephora's SAs nicer than other brands/stores :P In fact my favourite Sephora is the one on Bloor. That location, even though it is downtown is an exception to the pattern. The ones uptown are nice too, but I don't like going to my closest store as much because there is an SA there with an attitude I can't stand.