My
Buff'd
samples that came last Thursday:
I got 3 samples, Wool, Sand, and Antique, two of which Jennifer @
Buff'd
recommended. She also included two free eyeshadow samples, Butter and Chestnut:
These are swatched dry. I did have to use a couple of swipes to get that intensity in the picture, but the pigmentation is still good. I like Butter more as I can see myself using it. Chestnut is a bit too warm of a brown but thats just my preference.
As for the foundation, I got to try two of the colours over the weekend, Wool and Sand. Both looked almost the same, but I liked the one with yellow undertones more (can't remember atm which is which).
So far, I really love Buff'd foundation :) The coverage is very good, better than Everyday Minerals and Silk Naturals. It has a relatively natural matte finish as well. I think this would be great for normal to oilier skins. I have drier skin, so I noticed I had to take precautions not to apply too much. So far I've just been using my MAC 187SE to apply this, as I'm afraid it'll look too cakey if I use a flat top brush which normally picks up more product.
I didn't have to use a separate concealer with this either (I could, if I wanted my skin to look extremely perfect, but this already covers quite a bit).
Going to test the 3rd shade this coming weekend. I'm worried that the heavier coverage might break me out though, so I'm definitely keeping an eye on that the next few times I wear it. I hope not, because so far this foundation has been awesome the 2 times I used it :) And before I forget, I gotta say thanks to
Christiana
because I think it was from one of her older posts that I heard her say Buff'd has better coverage :)
***
Also, my
Facial Shop
order that I ordered the previous weekend arrived the same day. Shipping was quite fast since I ordered Saturday night and received the items Thursday, all the way from HK too.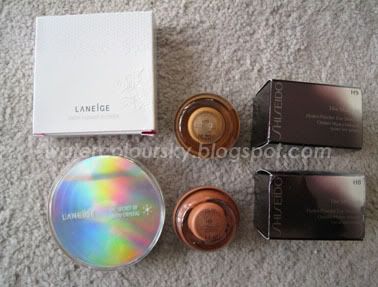 Btw the Dior palette I wanted was out of stock, which is great because I didn't spend as much then :P So I ended up with the Shiseido Hydro-powders in Bare Pink and Glistening Sand, as well as Laneige Radiant Snow Blusher in 002.
Nicnic
asked me about Facial Shop's shipping. I found the shipping quite fast, and customer service is good although she takes about 1-2 days to reply to questions. Like Adam Beauty, Facial Shop also ships through registered mail. But unfortunately packing of their products is quite similar to Adam Beauty as well - where the products are wrapped in bubble wrap and put in a paper envelope. I haven't had problems with either company so far (touch wood), but I guess this is something to keep in mind. Her prices do already include the shipping cost, so maybe she might agree to use better packaging for an extra fee?
Pic of the envelope used (plus my small Sephora purchase from Saturday and MAC haul that I posted about yesterday.)