I went on a major spree this weekend :D but now i have buyers remorse lol...thank goodness for the return policies here in North America...
I also got my samples from Buff'd Cosmetics and Facial Shop, which I will be posting later.
For now here's the stuff I hauled Friday after work: (Note to self: it is a BAD idea to go shopping after work btw...)
1. From Shoppers Drug Mart:
Ralph Lauren Romance Eau de Toilette 40 mL
Burberry Brit Eau de Parfum 40 mL
Maybelline Superstay lipcolour in Peach
Samples of L'oreal Skingenesis lotion, Elizabeth Arden perfume
I got the perfumes because they were over 50% off :) The original prices were close to $50 CDN, and they were discounted to $20 each last week!
But I have a feeling I'll be returning the Burberry Brit and Maybelline...because I spent way too much money on Sat, and these are the two I can give up.
2. From MAC
I headed to the MAC counter after that to check out Naughty Nauticals. Before, I kept on thinking that I was going to only get Bell Bottom Blue pigment, and perhaps Submarine. But this was my purchase in the end...
Bell Bottom Blue pigment
Lovely Lily pigment
Illegal Cargo eyeshadow
Submarine eyeshadow
sample of Mutiny pigment
and Melrose Mood from Heatherette
Closer look at the Naughty Nauticals stuff:
About the pigments I got:


Prior to NN's launch, many people were saying Bell Bottom Blue looks similar to Naval Blue (PRO) in the promotional pictures. I don't think so at all. Bell Bottom Blue is a lighter richer blue with silver sparkles in it. Naval Blue is a more blackened dark blue, and is different enough that I still want a full size jar of it :)
I only got a sample of Mutiny even though the colour looked so pretty, because it seems so unpigmented. When I swatch it the colour hardly shows up on me (see picture above). The SA said I could foil it, but knowing me I wouldn't ever do it. I like pigments because they are pigmented even when dry. If I wanted a colour that I had to foil, I would rather save money and buy a mineral eyeshadow instead!
The other pigment I bought, Lovely Lily is really pretty - its like a warm lilac. I forgot to swatch it but can if requested :)
About the eyeshadows I got:
With Illegal Cargo eyeshadow - honestly I was in love at the counter...but I had a nagging feeling the colour was familar. But still I got it anyway because I was feeling impulsive. It only struck me when I got home that one of my LORAC palettes contain a very similar colour.
Comparison of Illegal Cargo with LORAC Dreamy eyeshadow: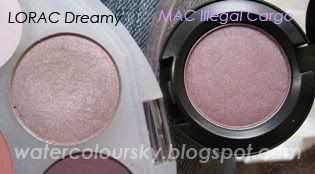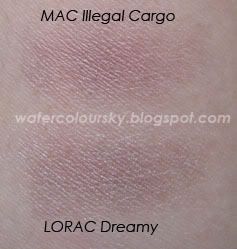 As for Submarine, I knew everyone was saying it looks like Freshwater, so I did the comparison at the counter. I found that Submarine was a bluer blue, while Freshwater was lighter and a tad more aqua-ish. (Check out
this comparison of the two
done by the Muse!). To me they shared some similarities, but I preferred the colour of Submarine so I decided to get it.
However when I got home I also realised that the NYX Aquamarine trio has a dark blue shade very similar to Submarine. In fact the NYX colour is more similar to it than Freshwater ever was.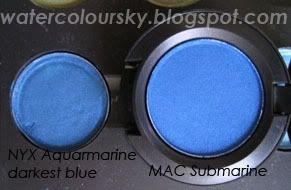 The NYX colour is a tad less blue than Submarine, but is closer to it than Freshwater was. The colours are too similar for me to justify keeping Submarine, so back to the store it goes.
So, in the end I'll be returning Illegal Cargo, Submarine, and Melrose Mood (I tried it on and the result was horrible!). At least I still stuck to my original plan of getting only two items from the NN collection after all, haha.