As previously posted, I got these back in March.
1. Kiss Me Heroine mascara in black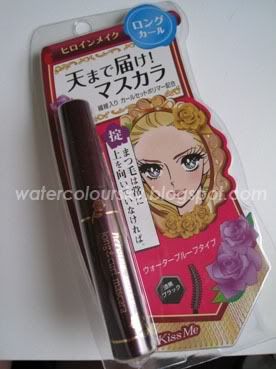 2. Kiss Me Heroine eyeliner in black
Kiss Me Heroine in red tube vs Blinc Kiss Me in silver tube:
I thought that Blinc would be quite similar to the original Kiss Me but they're quite different.
The brushes are shaped differently:
The Blinc brush (top) has more widely spaced bristles, and comes in a 'dumbbell'/hourglass shape. The centre of the brush is thinner than the ends.
The Kiss Me Heroine brush (bottom) has bristles that are set closer together. It has a curved shape.
I find that Blinc creates more spiky lashes, while Kiss Me Heroine creates more defined, well-separated lashes because of the brush.
Generally, I prefer Kiss Me's brush over Blinc's because the curved shape makes it easier to do small sections the lash at a time. The hourglass shape of Blinc doesn't fit my eyeshape perfectly, so i have to either use the tip (and wipe off the excess mascara), or use the innermost part of the brush which is more difficult.
I was going to do a comparison of their lengthening effects but I found that both looked the same when I did one on each side, so I didn't bother.
In terms of removal, the Kiss Me Heroine is harder to remove. I thought it would have the same "tube your lashes" formula as Blinc, so it would slide off easily. However that isn't the case. I find that it doesn't slide off in tubes, rather, I have to use a separate eye makeup remover to get rid of all the traces :( In that aspect, Blinc is still my favourite in terms of convenience.
Overall: Even though I prefer the brush, and the separated lashes effect that Kiss Me has, I like Blinc better because its so easy to remove. However the price is really expensive....about CDN$40 here for me :(
Kiss Me eyeliner:
I love how the tip is really fine. I can draw a super thin line, or make it thicker. And the brush is the right firmness/suppleness, so it gives you a lot of control.
I also find the pen-style format much more convenient that the brush + pot formats that many liquid liners come in.
The formula stays put quite well. Its waterproof but comes off with water and gentle rubbing. However for me, I hate the thought of using any pressure on my lashline so I still use a makeup remover anyway to expedite the removal process. That way I can use the absolute minimal pressure to get it off.
Overall, I think this is a great liquid liner, especially for liquid liner newbies like me. The problem I had with other liquid liners in the past was flakiness or a brush that was hard to control. This liner has none of these problems, and is so easy to use.
[Update]


P.S. Chiara has also posted her thoughts on this liner before
here
. In fact I got this because of her review :)

[Update 2]

Note that Kiss Me Heroine mascaras and liner can be purchased from Ichibankao. Sasa also stocks the liner, and the Volumizing version of the mascara. I don't think they have the Long & Curl version though.