I've been meaning to do this post forever. Even though it wasn't requested I always feel like if I have a collection of something I like to do a complete swatch of everything.


This is pretty much all of the
ELF
single eyeshadows and blushes (except the bronzer/face highlighters)
The blushes are:
Glow
,
Shy
,
Coy
,
Flushed
, and
Bronzed
. Everything else is eyeshadow.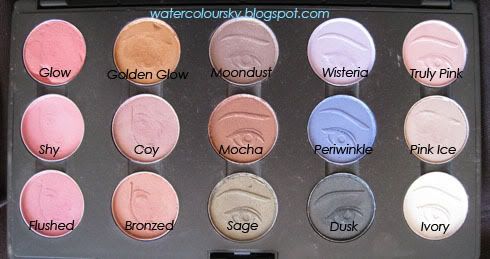 Swatched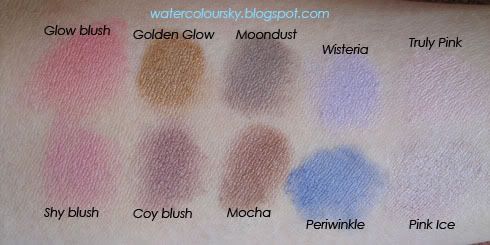 These pics have been just sitting in my Photobucket for a while...I wanted to actually do a complete
ELF
product post as I have most of the brushes and bronzers too. But I don't think I'll be able to get around to it :(
I really like their blushes. I like how you can get them in that convenient pan format, meaning I can fit them into eyeshadow palettes to carry around. They are a bit more fragile than other eyeshadow brands though, and crack more easily. See picture of Glow blush top left corner as example, haha. But, at the same time the product texture is very nice and soft.

As for their eyeshadows...it depends. A lot of people seem to hate them. For me it depends on the shade. I find the lighter colours are more chalky and less pigmented (eg. Pink Ice, Ivory). However some other colours are nice and pigmented (Wisteria, Golden Glow, Periwinkle). The texture is super soft, almost too soft for my liking. I usually end up picking too much on my brush, and end up having to tap some product off. Maybe its because of the softness, but I find they are quite blendable.

I must say though that their company and customer service sucks. I've heard about some bad experiences with them. Also, I have emailed their customer service before a few times and have never, ever, gotten a response back.

I also hate their shipping practices. When you place an order, they will ship only what is in stock, without informing you that the other items were unavailable, or even giving you an option to wait til those are back in stock. And even though they claim to refund the short shipped items, they never refunded mine. I only had 2-3 items missing though, so I actually forgot all about it until a couple months later. Still, not refunding customers' money is completely unacceptable in my opinion.

So yeah...I guess to sum up, I actually like some of ELF's products, but would recommend that you purchase them in-store, not online.