MAC Lip Erase
comes in two colours, Pale and Dim. Dim is the darker colour of the two and I picked it on the advice of the SA as the other would've made me look more washed out.
I have really pigmented lips. An annoyingly pigmented red. I find a lot of colours don't show up on me at all, or they'll look like I just added clear gloss on my lips.
If I try to use darker colours, the colour ends up intensifying the redness of my lips, making me look like I have red lipstick on. That might be great if I want a red lipstick look, but it gets quite annoying if I do a smoky eye and my natural lipcolour is just overpowering the look :(
So I really like Lip Erase because it helps make lipsticks look like their actual colour on me.
I know that a cheaper alternative often used is concealer on the lips. However concealer has never worked for me because it washes me out a lot more. I also have super dry lips, and concealer always ends up accentuating the lines/any flakiness on my lips.
I've heard of some people using MAC Myth satin lipstick as well to mute their lipcolour. I don't have MAC Myth, but I have MAC Fleshpot, which is somewhat similar to Myth. I compared the two and the effect is quite close. However the Lip Erase formulation is smoother and seems to make a better base on my lips compared with the satin formulation of Fleshpot.
Note that I do have to use lipbalm before applying Lip Erase. However it still glides on easier and spreads more evenly than concealer or Fleshpot.
Unfortunately it doesn't cure all my problems. It doesn't work well with sheer glosses, because it mutes my lips to a beige colour that looks quite odd unless there is an opaque colour on top. If only there was a product that would mute my lips to a natural nude pink colour, that'd be perfect.
Some pictures to give you an idea:
Lip Erase on the left half and none of the right. Topped with MAC 40s Pink lipstick. As you can see, lip erase helps show the true colour of the lipstick better.
Bare lips
With Lip Erase
With Viva Glam IV lipstick on top - a light berry colour
With Viva Glam VI gloss on top - a bit more glossy and a bit more colour
If WITHOUT Lip Erase
VGIV lipstick with only lipbalm underneath
With VGVI lipgloss on top - it looks like I used a red lipstick but I didn't.
Man, somehow these pictures don't show the effect of Lip Erase that well. Its hard to show how annoyingly red my lips are in real life.
FYI, here is how the lip colours I used really look like:
Left: VGVI lipgloss
Right: VGIV lipstick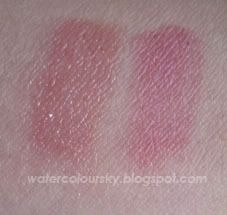 My verdict: Lip Erase is good to have if you have really pigmented red lips naturally, and concealer has never worked for you. Unfortunately, it is only sold at MAC Pro Stores so it may be hard to get a hold of. But if not, I'd recommend MAC's flesh coloured satin lipsticks, as for me the effects were quite close. I just ended up preferring Lip Erase because it IS smoother to apply on my frequently dry lips.