An anonymous reader requested a fotd using the Laneige blush I
previously reviewed
. So I used it in my look for Bella Cupcake's challenge, but the the blush isn't noticeable in the full face pictures because it is a very light pink, more like a highlighter after all.
I did however take some closeups of the blush when applied.
Bare face...look at all the red spots and big pores ! damm stress :(
With mineral foundation...a bit better
A couple swipes of the blush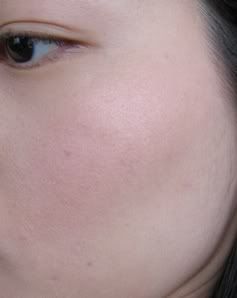 More product packed on
I upped the saturation in the pic below so this gives a better idea of how the colour looks in real life. The camera washes it out in the above pictures.
It gives more of a subtle pink glow to your face and helps highlight cheekbones quite nicely.
Hope this helps!