This review was requested by Her.Peachieness I think :)
I first read about this product on Musings of a Muse. Its a baked powder/blush from Laneige, a Korean brand. I was interested in them because she said they are quite similar to MAC Mineralize Skinfinishes. Finally got them last month when I was compiling an order from Facial Shop.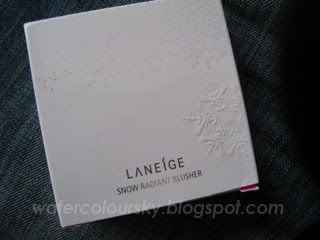 The exterior is a fairly unusual holographic design on the top, while the sides are a sturdy clear plastic with the product sticker at the bottom.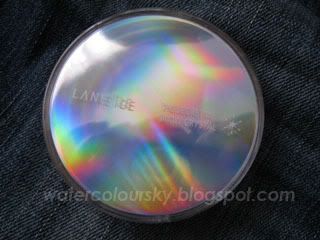 The whole case feels somewhat nice and heavy in your hand, compared with MAC MSFs which are a bit lighter. This is probably because it includes a mirror inside which is really practical!



The shade I got is the 002 Pink Prism. The other colours, 001 and 003 were lighter and seemd more like highlighters which is why I picked 002. I have way too many highlighters already that I hardly use.

Pink Prism consists of pink, darker pink, white, and gold swirls:

If you want to look at the other colours in the collection, there are some great closeups of the blushes by Makeupalley's Fleckenschnitte.

Included in the box is also a mini insert with some product information and application tips: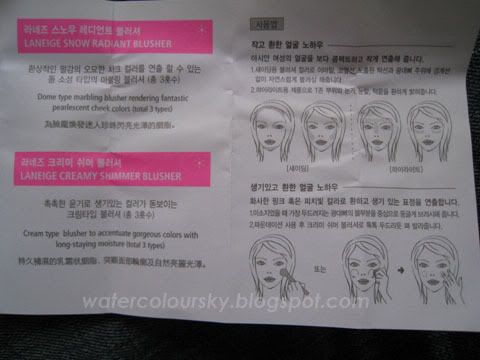 When I first swatched the blush and wore it out, I was struck by how pretty it was, but also by how similar it was to my MAC Light Flush MSF -.- Don't get me wrong, Pink Prism is a gorgeous colour, but I wish it was more different because I don't really want two of the same thing.

So I ended up taking pics of the two side by side to also show you how gorgeous but similar they can be.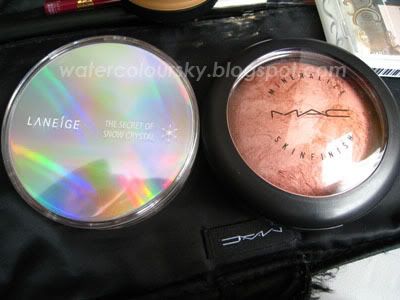 Not so similar at first glance - the marbling is quite different. Light Flush is more pink-copper swirls and looks like it would be warmer in colour.

But when swatched, even under different lightings, they look very similar on my skin:
(don't mind the red spot...that was just my skin not the blush :P)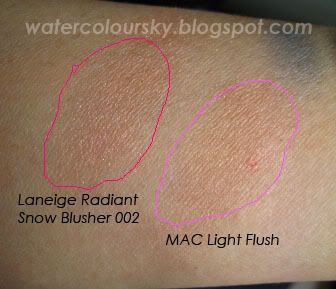 If you compare side by side in real life, you'll see that Pink Prism has a bit more sparkle in it, while Light Flush is just very fine shimmer. But the difference is very slight if worn on the face.

So my conclusion is that the Laneige Radiant Snow blushers are a great dupe for MSFs, especially if you like the idea of getting a mirror with it. The shimmer is subtle, and doesn't have the chunky glitter problem that plagued MAC's Flashtronic MSFs and Fafi Iridescent powders. Definitely a great buy in my opinion, if I didn't already have the MAC one. So just make sure you don't have a colour that is already similar, and you won't be disappointed.

Where to buy? I got mine off Facial Shop for $31.99, and if you buy 3 items you'll get a 5% discount. But definitely shop around, there may be other cheaper places.

Oh and if you want to shop online for Asian brands the Muse did a post not too long ago on shopping for Japanese cosmetics. So far I've only ordered from Adam Beauty and Facial Shop. I haven't tried JPmon yet, I've been too lazy to make it through the tutorial lol :P