Its going to be a busy week for me both at work and in my spare time so I might not be posting very often. However I'm still working on those reviews I promised for the Lip Erase, Laneige blush etc... I have the pictures, just need to edit them and write what I think.
Anyway I was taking a little break and surfing some blogs...somehow I ended up on Sephora.com and noticed the
new range of makeup
from Kat Von D. Now I've never watched an episode of Miami Ink, nor do I have a tattoo or want one but somehow these really appeal to me. The packaging with the silver roses on black just looks so nice haha. I'm such a sucker for nice packaging...
I like these in particular: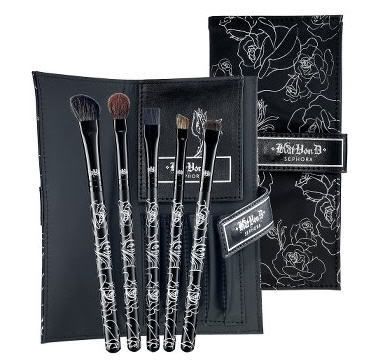 The dark purple in the palette looks like a purple I'd love :) I hope the shadows are pigmented though.
I haven't seen these in the Sephoras in Canada, but I'm definitely going to check them out when I go to the US next month! Speaking of which I can't wait for my trip :P I gotta stop spending money and save for that trip...yet I still made another order from Everyday Minerals just now. I've been stalking their
specials page
for the past week waiting for a good discount to pop up, and finally they put up something today. Its a 10% discount, and if you spend over $18 you get a free full sized eyeshadow in Bubble Tea (a turquoisy-shade). If you spend over $34 you get another eyeshadow (don't remember what colour), but I wasn't interested in it so I didn't bother.
Here's what I ordered:
They have a new website in the works too, and the
beta version
looks quite promising. The product colours for one look soooo much more accurate than their
current website
. If there was one thing EM needed to fix, its the so-called "colour guides" on their website....they were never close to what the product really looked like. Good thing they're finally fixing it.
***
Question from Anonymous on my last post
- sorry for the delayed response!:
hi there. i was wondering, when you say light winged butter, is that winged butter mixed with light olive? or do some people refer to winged butter as light winged butter? thank you =)

I'm referring to "winged butter" actually, sorry for the confusion :) I say "light winged butter" because that was the initial name for that shade on EM's website, but late last year they did some rearranging of their colour groups and changed the name to just "winged butter".