quick posting before i head to the gym
challenge details
here
at Bella Cupcake's blog!
i originally thought of doing a gold and green-teal look, but decided to go with gold, pink, and brown instead.
the concept:
[Face]
Tinted moisturizer or foundation (optional)
- Buff'd foundation in Wool
Concealer
- Everyday Minerals concealer in Multitasking and Sunlight to conceal redness and dark circles somewhat.
Powder to set
- Silk Naturals Perfecting powder
Glowy blush
- Laneige Snow Radiant Blusher in 02 Pink Prism on cheeks.
Highlight
- Used a light dusting of the Laneige to highlight nose and chin and forehead where appropriate. This step can be replaced with bronzer if a tanned look is desired.
[Eyes]
Base
- Urban Decay Primer Potion
Light beige-y shade to highlight
- ELF Pink Ice eyeshadow
Pale gold eyeshadow on inner corner of eye
- Annabelle Gleam eyeshadow
Darker gold eyeshadow
after pale gold
, half way across the eyelid.- 'from a Maybelline quad
Intense pink eyeshadow
- MAC Passionate eyeshadow on outer corner and above the gold colours so that it shows even when my eyes eyes open.
Frosty light pink eyeshadow on top of intense pink
- Laneige Snow Radiant Blusher - I used this only because I wanted a glowy look on the eyes but MAC Passionate is a matte colour.
Brown eyeshadow to darken outer corners
- MAC Brun eyeshadow
Dark brown pencil liner
to tightline
- Kate Square Cut liner
Bronze-gold colour to line
above dark brown pencil, and on lower lashline
- MAC Indianwood Paint pot
Lash primer (optional)
- Clinique Lash Primer
Mascara
- Lancome Definicils mascara
[Lips]
Lipbalm
- Nivea Labello
Mute natural lipcolour
if a lighter lip colour is desired - MAC Lip Erase in Dim
Peachy-nude lipstick and glos

s
- Coffret D'or Combient Rouge in 06 Peach Blossom
i know it seems like a lot of stuff...it doesn't have to be. I just like using several tones because I think it makes the look more multi-dimensional...
the result: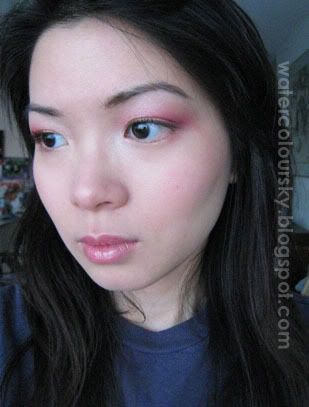 i need more sleep :(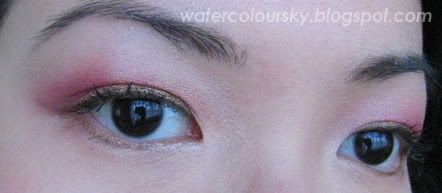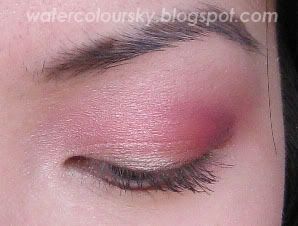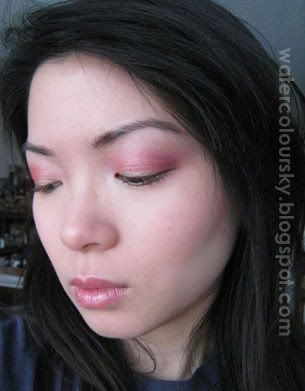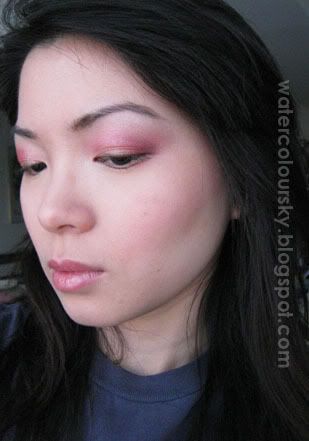 now for some quality time with the elliptical...